Jailed 'Innocence of Muslims' Filmmaker Is Unrepentant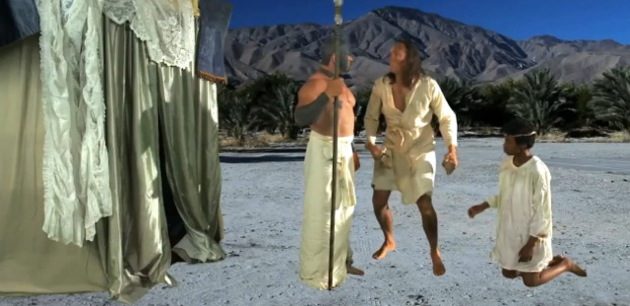 Nakoula Basseley Nakoula has had plenty of time on his hands to think about the violent unrest that his crude 14-minute YouTube video, Innocence of Muslims, caused, and he has no regrets. Nakoula, who's stewing in a Los Angeles jail because he violated the conditions of his probation stemming from a fraud conviction unrelated to the movie, told  the New York Times in an interview "that he would go to great lengthys to convey what he called 'the actual truth' about Muhammad.'
In Nakoula's first public comments since landing back in the clink, he explained that before he wrote the script to what became Innocence of Muslims — an early draft was called The First Terrorist — he thought, "I should burn myself in a public square to let the American people and the people of the world know this message that I believe in."  He also cited the 2009 massacre at Fort Hood, Tex. in which U.S. Army Major Nidal Malik Hasan killed 13 people and wounded 29 others on the military base.
Nakoula's interview is part of a larger investigative piece about the making of Innocence of Muslims that the paper calls "a bizarre tale of fake personas and wholesale deception," adding: "as with almost everything touched over the years by Mr. Nakoula — a former gas station manager, bong salesman, methamphetamine ingredient supplier and convicted con man — it is almost impossible to separate fact from fabrication."
The Times story indicates, by the way, that there's more to Innocence of Muslims than just a 14-minute YouTube clip. The finished film is apparently one hour and 30 minutes long.
Follow Frank DiGiacomo on Twitter.
Follow Movieline on Twitter.