2013 Oscar Predictions: Oscar Index Evaluates The Best Director Race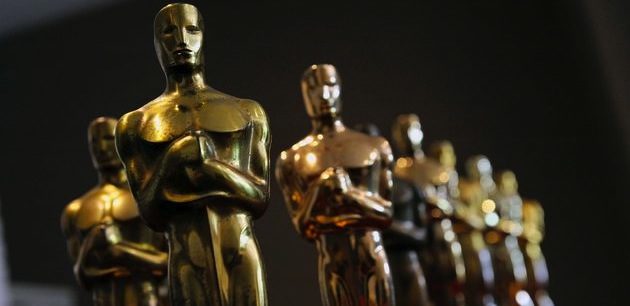 You're done gorging on turkey, which means only one thing: 'Tis the season to be stuffed with Oscar punditry. Movieline's Institute For the Advanced Study of Kudos Forensics has awoken from its L-Tryptophan slumber to provide you with our latest Oscar Index, which evaluates the contenders for Best Director. The latest Index on Best Picture can be found here, and over the course of the next week, we'll be weighing in on the Best Actor, Actress and Support Actor and Actress races.
How The Oscar Index Works
With each award category that we track, we'll present four different rankings. Movieline Executive Editor Jen Yamato, Managing Editor Brian Brooks and myself will each provide our personal weekly rankings of the movies and actors in the running, and then those results will be weighted and averaged to determine an official Movieline ranking for each category. Let's begin:
Best Director
In terms of perception, the Best Director category has been fairly static for a while now, but that should change next week as Les Misérables  and Zero Dark Thirty  screen for critics and reaction to them begins to flow through the blogosphere. Up to this point, the strong standings of the directors of those films, respectively, Tom Hooper and Kathryn Bigelow, has been almost pure buzz, so their positions could rise or fall sharply once actual scenes and performances can be scrutinized.
Until then, Steven Spielberg remains the auteur to beat despite Lincoln's at-times sloggy pace, and Ben Affleck is holding strong as his Argo continues to do well at the box office and on the word-of-mouth exchange.  The Master director Paul Thomas Anderson could use a Harvey Weinstein-style reheating,  and Ang Lee may need a different kind of PR campaign after he annoyed critics, including Movieline's Alison Willmore and the New York Times' A.O. Scott,, by undercutting the often-breathtaking visual narrative of Life of Pi with a cliched journalist-interviews-story-subject framing device. That could result in Lee falling in favor harder than the zebra hits the lifeboat in his film.
| | | |
| --- | --- | --- |
| Frank DiGiacomo's Picks | Jen Yamato's Picks | Brian Brooks' Picks |
| 1.  Steven Spielberg |  1.  Tom Hooper |  1. Steven Spielberg |
| 2.  David O. Russell |  2.  Steven Spielberg |  2. Ben Affleck |
| 3.  Kathryn Bigelow |  3.  Ben Affleck |  3. Ang Lee |
| 4.  Ben Affleck |  4.  Kathryn Bigelow |  4. Michael Haneke |
| 5.  Tom Hooper |  5.  David O. Russell |  5. Benh Zeitlin |
And the leaders are...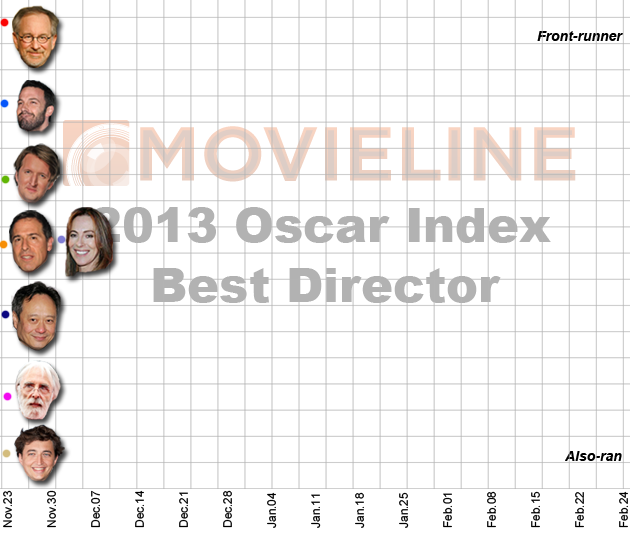 Movieline's Top 5 Best Director Contenders:
1. Steven Spielberg (Lincoln)
2. Ben Affleck (Argo)
3. Tom Hooper (Les Misérables)
4. Kathryn Bigelow (Zero Dark Thirty) -Tie
5. David O. Russell (Silver Linings Playbook) -Tie
Follow Frank DiGiacomo on Twitter.
Follow Movieline on Twitter.