Cahiers du Cinema Top 10: 'Holy Motors,' 'Cosmopolis' Best Of 2012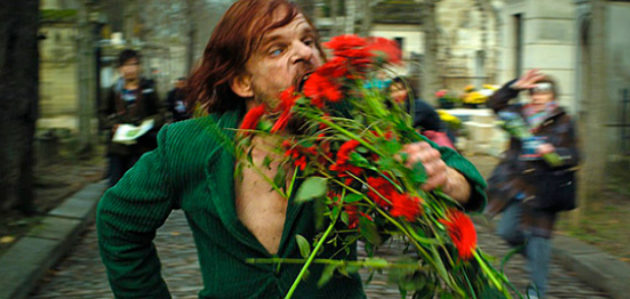 It's that time, folks! Kick off the end-of-year deluge of Top 10 lists with the best films of the year, as selected by Cahiers du Cinema. Because why bother waiting for the rest of 2012's Oscar hopefuls to screen when you've already had your mind blown by Leos Carax's wondrously WTF Holy Motors?

Cahiers du Cinema's Top 10 of 2012 (via MUBI/TOFilmReview):
1. Holy Motors (Leos Carax)
2. Cosmopolis (David Cronenberg)
3. Twixt (Francis Ford Coppola)
4. 4:44 Last Day On Earth (Abel Ferrara)
4. In Another Country (Hong Sang-Soo)
4. Take Shelter (Jeff Nichols)
7. Go Go Tales (Abel Ferrara)
8. Tabu (Miguel Gomes)
8. Faust (Alexadre Sokourov)
10. Keep The Lights On (Ira Sachs)
Of the honorees on the arthouse-centric list, Carax's Holy Motors, a transfixing ode to cinema and performance anchored by Denis Lavant's lead performance, should be the one to pop up elsewhere most frequently this season on critics' lists. Abel Ferrara makes the list twice — not too shabby considering that both 4:44 Last Day On Earth and Go Go Tales earned mixed acclaim from critics.
And who would've thought, four years ago when the first Twilight movie launched him into the teen idol stratosphere, that Robert Pattinson would not only make the Cahiers du Cinema Top 10 but come in with a film in the #2 slot? Looks like teaming up with Cronenberg was RPattz's best career move, after all.
The Google translation of the Cahiers du Cinema December 2012 issue is rough, to say the least, but Stéphane Delorme's editorial (located online here) states, among other agendas of the issue (translated from French: "Rather than commenting on Tops, we prefer to dwell on the failings of contemporary cinema copyright") that the publication's Top 10 selection "shows that we expect from cinema audacity and heart." And who can argue with that?
Sound off with your thoughts below.
[Cahiers du Cinema/MUBI/TO Film Review via The Playlist]
Follow Jen Yamato on Twitter.
Follow Movieline on Twitter.