Letter from Toronto: Woody Harrelson Disarms in Rampart; Sokurov Gets Wiggy with Faust
Occasionally, a movie is more interesting for where it doesn't go than for where it does. Oren Moverman's Rampart, starring Woody Harrelson as a disgraced (and obviously dirty) LAPD cop, is one of those pictures. It's more of a character study than a conventionally shaped drama -- I was taken aback when the end credits started rolling, momentarily left with that "Is that all there is?" feeling. But the more I thought about it, the more it seemed that the movie ended in just the right place, taking us as far as we can go with this loose-cannon cop before he's left to face his own isolation. Once we, the audience, part ways with him, he's truly on his own.
Harrelson's character is named Dave Brown, and though he's fictional, the movie is set against the backdrop of the LAPD's Rampart Division police-misconduct scandal of the late 1990s. (The script was co-written by Moverman and James Ellroy.) Brown believes it's his mandate to clean up scum in the rough neighborhoods he patrols, and he's happy to play judge and jury as well as cop. Early in the picture, he's caught on camera beating the daylights out of a guy who ran into his patrol car. He wriggles out of responsibility for it, gliding on a mixture of oily charisma and doublespeak, only to get into bigger trouble later on, when he unloads a few bullets into the perpetrators of a corner-market robbery, not because he really needs to, but simply because.
Brown's personal life isn't easy to parse either: He shares a sort of compound, two houses right next door to one another, with his two exes and two daughters, one by each mother. Did I mention that the two moms happen to be sisters? (They're played by Anne Heche and Cynthia Nixon.) Moverman doesn't really make it clear how that arrangement works, but that's part of the movie's intrigue: He doesn't feel the need to explain the inexplicable.
Moverman cowrote Todd Haynes's extraordinary Bob Dylan non-biopic I'm Not There and made his feature directing debut in 2009 with the subtle and arresting drama The Messenger (also featuring Harrelson). The Messenger was a fine piece of storytelling if not a particularly interesting piece of filmmaking. Be careful what you wish for: There's a lot more filmmaking in Rampart, with lots of jiggly handheld camera work, plenty of extreme close-ups and some craftily edited circular pans. Moverman doesn't have to work that hard. Still, he keeps us following this somewhat shaggy story to its abrupt but appropriate ending. And Harrelson thrives within this nonstructured structure. His performance is disarming, at times borderline unhinged -- the character's unlikability fuses with Harrelson's innate ragamuffin charm, and the result is both unnerving and alluring. Rampart isn't a particularly glamorous vehicle for Harrelson, but he's in control of it every moment.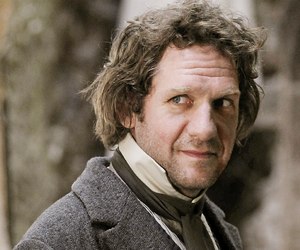 Aleksandr Sokurov's Faust was the surprise Golden Lion winner in Venice this weekend, despite the fact that Roman Polanski's Carnage went over so well with the critics. It just goes to show you: You never know. Faust is showing here in Toronto this week, but I saw it on my last evening in Venice. While I wasn't as wowed as the Venice jury clearly was, I can see how Sokurov's peculiar mix of classical tastefulness and whacked-out visual storytelling might have won them over.
The word is that Sokurov's Faust is less a strict reading of Goethe (which I've never read) than a darkly imaginative retelling. And the picture does have a strange, wondrous look: Cinematographer Bruno Delbonnel (who has shot several films for Jean-Pierre Jeunet, as well as Harry Potter and the Half-Blood Prince) employs lots of tricky distortion effects, and there are some lovely, fantastical moments, as when the object of Faust's obsession, Marguerite (she's played by Isolda Dychauk; he's played by Johannes Zeiler) is shown bathed in a soft, golden glow. The whole picture has a mossy, dreamlike look that's reminiscent of the delicate color tinting D.W. Griffith sometimes used. Faust is impressive, pretentious and, for long stretches, rather dull. Still, things start to heat up when Faust puts his bloody John Hancock on the devil's contract. Woe betide him who fails to read the fine print.
Read more of Stephanie Zacharek's 2011 Toronto International Film Festival coverage here.