Bond Designer Danny Kleinman On His 'Skyfall' Title Sequence (And How To Craft A Great 007 Opener)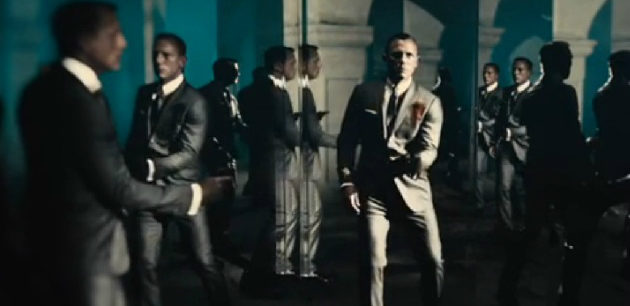 IT STARTS WITH THE SCRIPT:
"I think Adele's song is a particularly great Bond song, but strangely I don't get the track until quite late in the process. I have to start working on the ideas for the title sequence quite early on, so what I do is once I've read the script I do lots of sketches and drawings, just brainstorming different ideas of what could be in there – what could be poetic, but not too specific. I don't want the sequence to give anything away in the film, or what happens later in the film, but it also has to be relevant to the film and have the right atmosphere. I also try to make it narrative, even if it's a very loose, poetic narrative."
MATCHING MONTHS OF SEQUENCE WORK TO LAST-MINUTE BOND THEME SONG SELECTIONS:
"I take the ideas or themes that I like and try and work them into a flow of action. Then my edit goes together in maybe a three-and-a-half minute sequence, and at that point I'm probably several months into the process – but the song may still not be decided on, and even if it is decided on it's probably only a rough demo. It's still several months before the final song is recorded and mixed and edited to the title sequence. So it's a little bit hairy! At the end of this I have to put the two elements together, the music and the visuals, and I edit it all myself on a computer. I usually have to swap things around a bit and change things, and I try to make it have not only relevance to the film but also some lyrical content from the song."
COLLABORATING WITH 007'S MUSIC DEPARTMENT:
"I have worked in the past with David Arnold, who I know personally, so we have in the past swapped emails that might have said, "Look David, I need to have some lyrics – please give me some lyrics so I know what's going on!" But this time, I didn't know Adele and I don't know the musicians, so even though I did get a demo which was about five minutes long — obviously too long for the title sequence — I did do an edit of my own just to get me going. I sent it along as a suggested way that the track could be edited, and they decided to do it another way, which is completely fine considering that they're music editors and I'm not."
PHOTOS: Skyfall Premiere: 007 Mingles With Royalty On The Red Carpet

BRINGING IT ALL TOGETHER WITH ADELE'S "SKYFALL" THEME:
"Adele had recorded her voice on it, and it was partly mixed, but there was a whole other section with an orchestra and strings which lifted it up and gave it a whole other dimension. And to finally be able to put that to the picture is great; it suddenly all starts coming to life. Each bit of the title sequence, the special effects and the ideas, gets a little bit better in increments, so it's not until the very last minute that the whole thing comes together and I get to see it – probably even less than a week before the deadline when it has to be finished."
ON MAURICE BINDER AND THE ICONIC, MUST-HAVE ELEMENTS OF ANY BOND TITLE SEQUENCE:
"I think the thing is, if you take a girl dancing and make her in silhouette, and have some flames or explosions or something cued into it, then that is effectively lingua franca for James Bond. [Laughs] What's amazing is that Maurice Binder invented that language, and that visual language is recognized the world over. It's almost become a cliché; the trick is to kind of include it because it's part of the heritage. It's part of what makes Bond Bond. It's exciting, it makes the hairs on the back of your neck stand up in the cinema and you're thinking, "Great – I'm off on a Bond journey," and the Bond theme kicks in. Those little elements, like the girls, are important to keep, but they have to have some relevance. I think it's testament to Maurice Binder and his work that the visual language is so iconographic and universally recognizable."
ADDING DEPTH TO THOSE ICONIC OPENING SEQUENCE FEMALE SILHOUETTES:
"I think in a previous era a partly naked lady was slightly titillating and sexy, but it was to a certain extent fairly one-dimensional. I think it would be fair to say that Bond's relationship with women in the past was fairly one-dimensional as well. But it has become much more nuanced. I consider the girls to be more of a new representation of something: Perhaps it might be malevolence, or danger, but they're not just there to be salacious."
DANNY KLEINMAN'S FAVORITE BOND TITLE SEQUENCE OF ALL TIME?
"The one that always stands out in my mind is from You Only Live Twice, which I think was an amazing song — one of the best Bond songs. I love Shirley Bassey, but You Only Live Twice was Nancy Sinatra. I think it's a great son. it's the mixture of Japanese imagery with the Bond imagery, with parasols opening and the bubbling lava and the colors were very beautiful. I remember as a youngster thinking "Wow, that's pretty amazing."
READ MORE ON SKYFALL AND MOVIELINE'S 50 YEARS OF BOND CELEBRATION:
Follow Jen Yamato on Twitter.
Follow Movieline on Twitter.
Pages: 1 2