Bond Designer Danny Kleinman On His 'Skyfall' Title Sequence (And How To Craft A Great 007 Opener)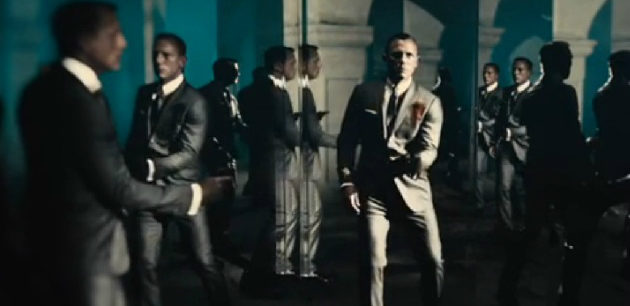 James Bond veteran and BAFTA-nominated director Danny Kleinman has crafted all but one of 007's title sequences since taking over from Maurice Binder, the creator of Bond's iconic gun barrel shot, with 1995's GoldenEye. For Skyfall Kleinman created a moody, inky death dream of a title sequence powered by Adele's "Skyfall" theme song — a reflection, he explains, of the MI6 agent's dark emotional state as Bond's 23rd EON outing unfolds.

REVIEW: James Bond Is Reborn In Lavish Skyfall
"At the beginning of the film there's always an amazing action sequence, and this time it ends with Bond being shot. So one of the things I wanted to do was perhaps suggest what might be flashing through Bond's mind as he thinks he might be dying," Kleinman explained to Movieline.
Kleinman memorably used scorpions to open Die Another Day and turned Casino Royale's literal and figurative gambling theme into a kaleidoscope of deadly hearts, spades, diamonds, and clubs. The key guiding motif for Kleinman's Skyfall title sequence? Death. "It's a sequence that starts with Bond underwater and thinking that he's dying," Kleinman said. "I took that on as being almost like going into the underworld, feelings of mortality and feelings of, perhaps, regret and nostalgia."
In Skyfall's opening sequence Bond drifts through a watery dreamscape of daggers and guns, encountering faceless, shadowy foes who threaten to overtake him. "One of the lines in the movie is about the intelligence service working in the shadows," Kleinman said, "and I found that really interesting — the idea of being in the shadows and how shadows suggest different things but can also be intimidating."
"It's quite a macabre and dark sequence, because I think the film is about Bond coming to terms with things that have happened in the past and with [Judi Dench's M], it's a very emotional story — moreso than most Bond films. My intention is to set up an atmosphere that gives you little clues, little hints, but is not too specific." He paused. "It's better than watching a bunch of names against black, anyway."
How does one go about creating a fantastic James Bond title sequence? Kleinman takes us through his creative process, the delicate art of teasing Bond's exploits without giving too much away, how closely he works with Bond theme song creators like Adele — or not, as it happens — and his favorite 007 title sequence of all time.
Pages: 1 2