From Shirley Bassey To Dr. No, The 007 DNA Of Adele's Skyfall Theme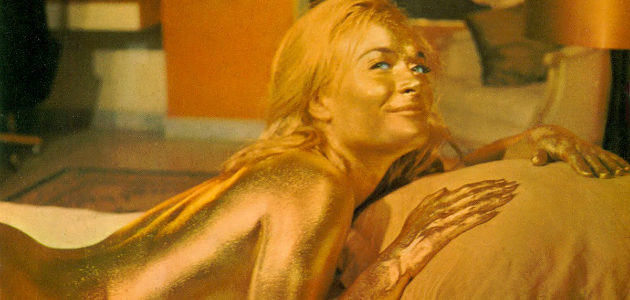 With her soulful contralto, Adele was born to sing a Bond theme song. She delivers with "Skyfall," produced by regular collaborator Paul Epworth, and released yesterday on James Bond's 50th birthday. That should be a relief to music lovers and Bond fans alike, but just how much musical DNA does Adele's "Skyfall" share in common with the best Bond themes to date?

At some point in the mid '70s, Bond theme songs lost their way. I blame Carly Simon. "Nobody Does it Better," which she sang for 1977's The Spy Who Loved Me, is a perfectly good pop ballad — it was Simon's greatest hit, after all — but it was not a Bond song. It broke all the traditions: its title was different from the movie's, it was in a major key, and it made no musical allusions to the composer behind the unmistakable 007 sound, John Barry.
As if in apology, producers brought back Goldfinger and Diamonds are Forever songstress Shirley Bassey for the next movie, Moonraker, but the rekindling was all too brief.
After that, there was a string of songs that sounded like '80s sitcom theme songs. Seriously, listen to Sheena Easton's "For Your Eyes Only" and imagine it playing over Three's Company–style opening credits, with scenes of Bond walking into MI6's office and throwing his hat onto the coat rack while Ms. Moneypenny rolls her eyes and smiles.
Same with "Octopussy." Just think of what "Thunderball"'s Tom Jones could have done with that title.
MGM and Albert Broccoli seemed to come to their senses after realizing what a mistake they'd made entrusting the theme song for The Living Daylights to A-Ha.
They took a step in the right direction with the next one, Gladys Knight's "License to Kill," which opens with a direct quote of the opening motif from "Goldfinger."
In 1996, with "Goldeneye," Tina Turner did with the music what Pierce Brosnan did with the character and helped rescue the entire franchise.
Since then, the only real crime against 007 tradition was Madonna's disjointed dance number for Die Another Day.
Adele's "Skyfall" is the most classic Bond theme since the classic Bond themes. The song may not be as infectiously hummable as some of Adele's other hits, like "Rolling in the Deep," but it fits perfectly within the James Bond tradition. Breaking the song down to its constitution elements, we can see how it compares to its predecessors:
Voice
You can't listen to this song and not immediately think of Shirley Bassey, though Adele throws in a little more melisma.
C-minor key
More than three quarters of James Bond songs are in a minor key. The only other one in C-minor, however, was Garbage's "The World is Not Enough."
Dr. No references
Peppered throughout the song are echoes of the original instrumental theme John Barry wrote for Dr. No, including the unmistakable four-note riff here played by the electric guitar 1 minute 50 seconds in, and the distinctive, sixties-sounding final chord (a minor ninth, if you're curious), which is the same chord that concludes the Dr. No theme.
Instrumentation
Like Carly Simon's "Nobody Does it Better," the song begins simply, with vocals over piano. But then the strings, electric guitar, and John Barry–esque horn blasts kick in, bringing to mind the Sean Connery–era Bond themes. Thankfully, "Skyfall" did away with the tambourine.
Melody
The rising fifth in the hook ("… let the sky fall") is reminiscent of "Goldfinger," "Diamonds Are Forever," and "The World is Not Enough," which all have same interval in the main melody. Also like "The World is Not Enough" and Sheryl Crowe's "Tomorrow Never Dies," the verse ends on a suspended fourth chord.
Tempo: ca. 78 bpm
Practically the same as "License to Kill."
Lyrics
This song does a better job of integrating the title into the lyrics than many of its predecessors, although Adele has to break the nonsensical title into two words. Carly Simon simply plopped the words "The spy who loved me" into an otherwise boilerplate love song, and Chris Cornell didn't even bother including "Casino Royale" into his theme song, "You Know My Name." Adele's repetition of the title at the end of the song makes me think of what Tom Jones did with "Thunderball" and Tina Turner did with "Goldeneye."
Anything else? How much deeper can we go in overanalyzing this? Let me know in the comments.
Julian Sancton is a writer based in Manhattan. He has contributed to Vanity Fair, Esquire and Playboy, among other publications.
Follow Julian Sancton on Twitter.
Follow Movieline on Twitter.