9 Last Minute 2012 Movie Halloween Costumes For The Procrastinating Cinephile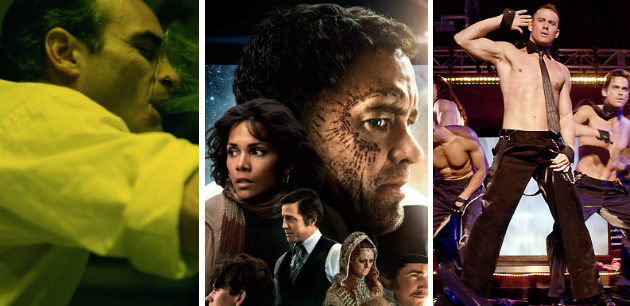 You're a procrastinator. You waited until the last moment to figure out your Halloween costume, and now you need ideas, fast — preferably ones that will impress your fellow movie nerds. Fear not! Here are 9 easy-ish cinephile-ready costumes inspired by some of this year's most memorable films...
CLOUD ATLAS
What do six interconnected characters in six time periods spanning from the 19th century Pacific to the future where Tom Hanks speaks the true-true have in common, despite wildly divergent costumes and fake noses and whatnot? THAT BIRTHMARK. Draw on your own Cloud Atlas comet mark of the Chosen One anywhere - your shoulder, the back of your head, your left butt cheek — and you're set. The best part: You can literally look like anyone and it still works. Just whatever you do, do not attempt futuristic Asianface.
PITCH PERFECT
Here's a group costume for you and 5-6 of your multi-culti friends: Dress campus casual and walk around in a pack all night singing pop songs a cappella and challenging random strangers to riff-offs while shouting Pitch Perfect-isms like "Aca-awesome!"
SEVEN PSYCHOPATHS
To channel Colin Farrell or any of his eccentric cast mates in Martin McDonagh's madcap crime comedy, all you really need is one key accessory: A Shih Tzu. Carry the pooch around all night and you're set. Bonus if you do it in a Christopher Walken accent. If you happen to resemble Tom Waits, a white bunny is a lot less costly to procure.
THE MASTER
Joaquin Phoenix's hunched, feral Freddie Quell can be achieved with just the right attire, posture, and off-kilter touch of insanity. Start with a button-down shirt tucked into pants pulled up to an Ed Grimley-level and slouch your shoulders forward. Carry a few makeshift beakers and jars with you and wherever you go, mix a batch of your special potions from assorted household liquids while pacing and licking windows. And voila!
SKYFALL
If you're a dapper dan who happens to have a Tom Ford fitted suit pressed and hanging in the closet, Halloween's a cinch: Dress to the nines, grab a Heineken, and spend the evening fixing your cufflink like a boss.
PROMETHEUS
Don't have a futuristic space suit lying around the house? No worries, ladies. Strip down to a white bandeau bra and panties, spatter yourself with black creature goop and run around screaming as if there's a giant space monster right behind you. Lug around a decapitated mannequin head for extra emphasis. You might be cold, but you'll be the baddest lady in the universe.
MAGIC MIKE
Fellas can get in on the scantily-clad action too, although the women of the world may prefer it if you have Channing Tatum's abs and sense of rhythm. Maybe a speedo-vest-cowboy hat combination, a la Matthew McConaughey? Or a g-string, for those who dare? Bring along a boombox and have Ginuwine's "Pony" queued up. You might even make some cash in the process.
THE COMEDY
Don your trust-fund hipster polo and boat shoes and walk around making a joke of everything a la Tim Heidecker (of Tim and Eric fame) in the new pic The Comedy; singing the infectious mantra "No no tip" will really tie the outfit together, although anyone who hasn't yet seen the movie will just think you're a giant douche.
THE GREY
Fish a dirty long-sleeved thermal out of the laundry, smear a few smudges of fake blood on your face, and tape broken minibar bottles to your fists and you're prepped for action, Liam Neeson-style. Plus: You get to drink the contents of those minibar bottles first, and you'll be ready for any wolves that may cross your path.
Follow Jen Yamato on Twitter.
Follow Movieline on Twitter.