'Iron Man 3' And 'Thor 2' Storylines Share Common Threads − They're 'Personal' And Vague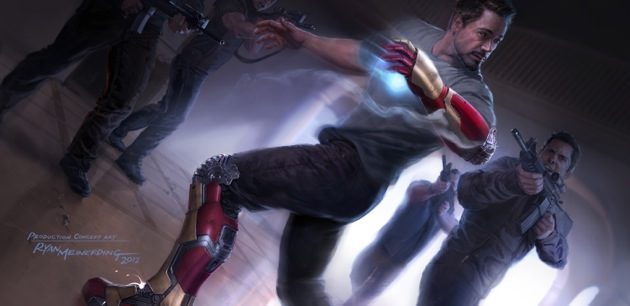 Walt Disney dropped a few more hints about the plots of Iron Man 3 and Thor 2:  The Dark World on Thursday, and, well, I wish I could say they were scintillating. In an effort not to give away the store, both synopses are fairly vague, although both stress how "personal" the battles they'll be waging are.
According to the plot for Iron Man 3, for example, the super hero's alter ego Tony Stark  "finds his personal world destroyed" and then must rely on "his ingenuity and instincts to protect those closest to him."  Well, I certainly hope that new gold Iron Man suit they've been talking about comes into play because if this is going to be some sort of Marvel Comics version of a Bergman film, I'd rather watch Bergman.
Over at Screen Rant, they've been reporting a much more detailed story that involves Ben Kingsley as the Chinese super-villain Mandarin and something called Extremis nano-technology serum that was developed to replicate the Super Soldier Serum that turned Steve Rogers into Captain America.
Here's the synopsis in its entirety:
Marvel Studios' "Iron Man 3" pits brash-but-brilliant industrialist Tony Stark/Iron Man against an enemy whose reach knows no bounds. When Stark finds his personal world destroyed at his enemy's hands, he embarks on a harrowing quest to find those responsible. This journey, at every turn, will test his mettle. With his back against the wall, Stark is left to survive by his own devices, relying on his ingenuity and instincts to protect those closest to him. As he fights his way back, Stark discovers the answer to the question that has secretly haunted him: does the man make the suit or does the suit make the man?
As Screen Rant notes, the last line sounds like a reference to the Iron Man comics "Extremis" 2005-06 story arc written by Warren Ellis, in which Tony Stark is injected with the Extremis serum and becomes a cyborg-like being who doesn't necessarily need his suit.
Thor, meanwhile, must embark on "his most perilous and personal journey yet".  There's a little more meat on the bones of this synopsis:
Marvel's "Thor: The Dark World" continues the big-screen adventures of Thor, the Mighty Avenger, as he battles to save Earth and all the Nine Realms from a shadowy enemy that predates the universe itself.  In the aftermath of Marvel's "Thor" and "Marvel's The Avengers," Thor fights to restore order across the cosmos...but an ancient race led by the vengeful Malekith returns to plunge the universe back into darkness.  Faced with an enemy that even Odin and Asgard cannot withstand, Thor must embark on his most perilous and personal journey yet, one that will reunite him with Jane Foster and force him to sacrifice everything to save us all.
Iron Man 3 is set for a May 3, 2013 release.  Thor 2: The Dark World will hit theaters on Nov. 8, 2013 and both will screen in 3D.
Follow Frank DiGiacomo on Twitter.
Follow Movieline on Twitter.