WATCH: Tom Cruise Is Jack Reacher In Slightly More Believable Theatrical Trailer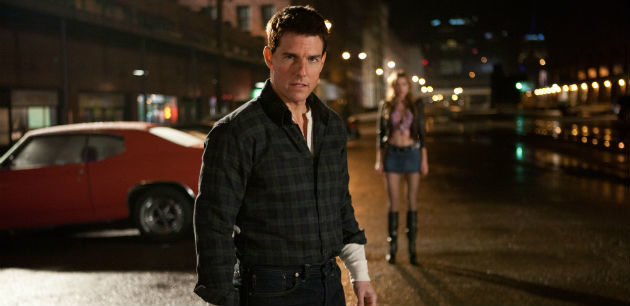 Tom Cruise IS Jack Reacher, screams the poster and new trailer for the Lee Child action adaptation. Is Paramount reaching, or is Cruise more and more believable as the bad-ass army cop who drives fast and punches bad guys in the balls as he investigates a suspicious multiple murder case?

This theatrical trailer for the Christopher McQuarrie-directed film (his first in the dozen years since Way of the Gun) wisely chooses not to linger on extended scenes of Cruise beating up dozens of bad guys — not the easiest stretch of the imagination, despite his ability to do the same when playing Mission: Impossible's Ethan Hunt. Sans ubercool gadgets and the metrosexual spy sheen of that franchise, Cruise has to work harder to pass for the brawling, cold-blooded ex-military loner of Child's novels.
Never mind that fans of the books are still grumbling that Cruise looks nothing like the ginormous 6'5" blond antihero. Jack Reacher is now a Tom Cruise Movie, so all it really needs to be a hit with the masses is a good story to string together scenes of Cruise angsting his way from fight to car chase and beyond. Right?
Jack Reacher's secret weapon, however? Werner Herzog as a bad guy. Now that's a brilliant stroke of casting that should make it well worth the price of admission.
Jack Reacher is in theaters December 21.
Follow Jen Yamato on Twitter.
Follow Movieline on Twitter.