Rejoice! Tina Fey And Amy Poehler Will Host Golden Globes Together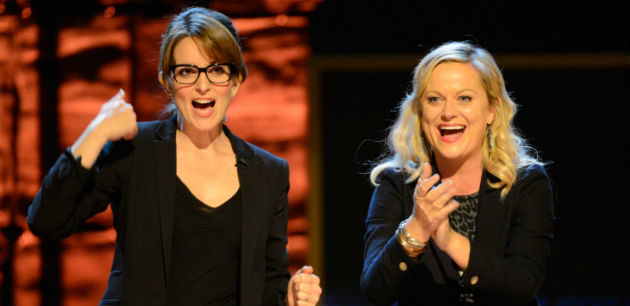 Exciting news: Tina Fey and Amy Poehler have won the hosting gig for the 70th Golden Globes Awards, where the SNL and Baby Mama/Mean Girls dynamic duo will almost certainly bring some pizzazz back to the proceedings following Ricky Gervais's neutered 2012 performance.

[GALLERY: The 2012 Golden Globes Awards Show and Winners]
Fey and Poehler, longtime NBC stars, will host the network's telecast of the Golden Globe Awards on January 13, 2013 at 8p EST/5p PST. Expect awesomeness. And maybe a rap.
From EW:
"Having both Tina Fey and Amy Poehler on board to host this year's festivities is a major coup," said Paul Telegdy, NBC's president of alternative and late night. "Tina and Amy have a proven chemistry and comedic timing from their many years together on SNL to their successful co-starring roles in Baby Mama."
True, but let's not overestimate how good Baby Mama was. It was aight. Fey and Poehler's other best collaborations, on the other hand — from Mean Girls to SNL's Weekend Update — are another story. But kudos for working the phrase "baby mama" into awards season, ladies!
Are you as optimistic as I am for the Fey-Poehler Globes? Chime in below.
[via EW]
RELATED:
Seth MacFarlane To Host Oscars: Good Idea/Bad Idea?
Jimmy Fallon Not Hosting Oscars: 'It's An Honor To Be Asked'
Follow Jen Yamato on Twitter.
Follow Movieline on Twitter.