WATCH: Seven Psychopaths Is Even Funnier When Cats Stand In For Walken, Farrell, Rockwell, Harrelson & Waits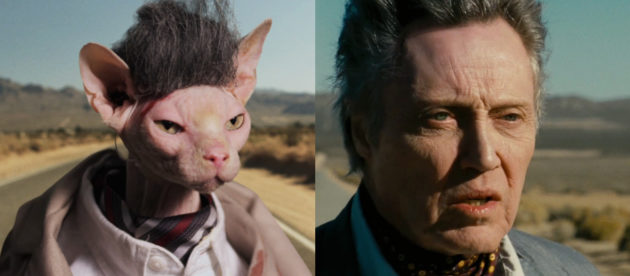 Over the weekend, I heard Peter Sagal, the host of NPR's Wait Wait...Don't Tell Me cite a study by Japanese scientists that determined that workers who watch kittens and other cute baby animals on the Internet are "more focused and productive the rest of the day." So, in the interest of strengthening the coffers of corporations everywhere, I think you should take the next half hour off and watch these very funny — I mean, cute — Seven Psychopaths parody trailers, PsychoCats, that feature cats instead of the cast, which includes Christopher Walken, Sam Rockwell, Colin Farrell, Woody Harrelson and Tom Waits. The deservedly anticipated film by Martin McDonagh opens on Friday.
Click Here to  Check out Movieline's Seven Psychopaths photo gallery featuring Sam Rockwell.
The PsychoCats trailers were directed by Adult Swim alumnus Jim Tozzi, who co-created and produced the cartoon network's late, lamented  Xavier: Renegade Angel. Tozzi studied film and illustration at the Rhode Island School of Design (which sounds impressive until you remember that this guy is making parody videos starring cats.) He's directed music videos for Mercury Rev and Moby and created the award winning retro "Twip" campaign for TV Land. As part of the art collective PFFR, Tozzi has also esigned animation characters and puppets for the underground hit MTV show, Wondershowzen.
Embedding for the Red Band trailer has been disabled for some reason, perhaps because little kids shouldn't be watching cats drop the f-bomb, but here's a link to the clip. As Tom Waits says in movie, "Dandy!"
Follow Frank DiGiacomo on Twitter.
Follow Movieline on Twitter.