WATCH: Daniel Craig's SNL Tribute To The Bad Guys He Killed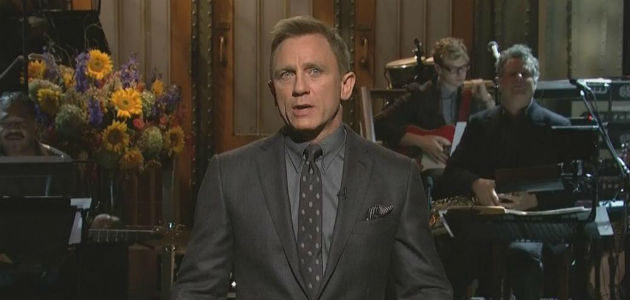 So maybe Daniel Craig lost last night's SNL spotlight to Big Bird. He still held his own and promoted Skyfall with fun little riffs on his James Bond persona, starting with his opening monologue — an Oscars-style In Memoriam tribute to all the poor guys he's killed over the years while dutifully serving as Hollywood's iciest action hero.

Watch above to see Craig uncharacteristically (but nevertheless quite charmingly, I must say) go a bit goofy on the SNL stage (unfortunately NBC hasn't released the monologue excerpt on its own, but here's the full episode). For another dose of 007's big SNL promo push, hit the Bond-themed digital short below detailing 50 years of lesser-known Bond Girls...
[via NBC]
Follow Jen Yamato on Twitter.
Follow Movieline on Twitter.