WATCH: 'Lone Ranger' Trailer Teases Depp's Tonto, Lone Ranger Not So Much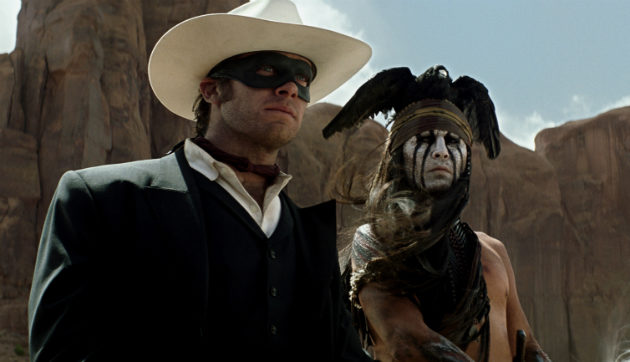 Disney's first trailer for the big budget Wild West spectacle The Lone Ranger has everything but, y'know, the Lone Ranger himself — Armie Hammer, who's glimpsed here and there amid director Gore Verbinski's bright, sweeping vistas, but certainly isn't the center of attention. Based on this you'd think The Lone Ranger is about horses, runaway trains, slo-mo shoot-outs, and Johnny Depp as a painted face, bird-on-head, perpetually grimacing Tonto. Which, let's be honest, is why this movie exists in the first place.

Depp's sage (and apparently humorless) Tonto penetrates the iconic Western landscape like a punchline, delivering an accented line: "There come a time, kemosabe, when good man must wear mask."
I'm sure his is a culturally-sensitive and realistic portrayal of Native American heroism. This should make for some very interesting Independence Day '13 viewing.
Meanwhile, let's see some more Hammer, Disney! Otherwise it's The Tonto Show, which, who am I kidding, I'd watch anyway.
The Lone Ranger hits theaters July 3, 2013.
Synopsis:
From producer Jerry Bruckheimer and director Gore Verbinski, the filmmaking team behind the blockbuster "Pirates of the Caribbean" franchise, comes Disney/Jerry Bruckheimer Films' "The Lone Ranger," a thrilling adventure infused with action and humor, in which the famed masked hero is brought to life through new eyes. Native American spirit warrior Tonto (Johnny Depp) recounts the untold tales that transformed John Reid (Armie Hammer), a man of the law, into a legend of justice—taking the audience on a runaway train of epic surprises and humorous friction as the two unlikely heroes must learn to work together and fight against greed and corruption.
Verdict: Hi-ho, Silver, away...