Glimmers Of Gold: An Early Look At The 2013 Oscar Race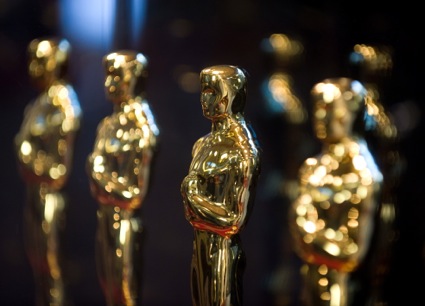 BEST ACTOR
Daniel Day-Lewis's elongated, stovepipe hat–wearing silhouette has loomed over this category ever since it was announced that he would be playing Abe Lincoln in Spielberg's long-awaited biopic. But the underwhelming response to the trailer has loosened DDL's grip on what would be his third statuette. Lincoln's high-pitched whine  may be historically accurate, but isn't likely to resonate as loudly with voters as the deep, stentorian rumble of Daniel Plainview in There Will Be Blood. Right now, it looks like Day-Lewis's greatest competition is coming in the form of a hunchbacked, wild-eyed Joaquin Phoenix, whose performance in The Master is lauded even by critics who disliked the film. (Unless Philip Seymour Hoffman somehow ends up in the running for the same movie — see Best Supporting Actor below — and they cancel each other out.)
Bradley Cooper's also been getting nothing but love for not playing a total d-bag for once in Silver Linings Playbook. John Hawkes's turn in The Sessions as a God-fearing paraplegic looking for nookie could get a nod, as long as the Academy doesn't feel it's just too obvious. Nobody's won best actor for a musical since Rex Harrison in 1963 (My Fair Lady), but Hugh Jackman has made it quite clear how much acting went into his performance in Les Miserables. If Amour gets any play beyond the foreign language category, French screen legend Jean-Louis Trintignan is bound to get a nomination. Finally, there are a few question marks surrounding performances we haven't yet seen from actors who can never be counted out, including Anthony Hopkins (Hitchock); Denzel Washington (Flight); and Jamie Foxx (Django Unchained).
BEST ACTRESS
The first actress to lock up a nomination in this category was 8-year-old Quvenzhané Wallis, whose performance as a headstrong swamp child in Beasts of the Southern Wild deserves every superlative critics have used to describe it. Silver Linings Playbook star Jennifer Lawrence, who's just 14 years older, has a good chance to get her second nomination in this category, which would put her on pace to become the next Meryl Streep.
The rest of the field, however, is a bit of a blur. Seemingly at a loss to fill it, pundits have been throwing out every previous Oscar winner they can think of who's got a movie out, including Streep (for the tepidly reviewed Hope Springs), Helen Mirren (Hitchcock), Viola Davis (Won't Back Down), and Judi Dench (The Best Exotic Marigold Hotel,and even — I'm not kidding — Skyfall). Two of the strongest contenders are Frenchwomen: Emmanuelle Riva, for Amour, and Marion Cotillard, who fills the "John Hawkes slot," playing a double amputee who finds love in Rust and Bone.