FANTASTIC FEST INTERVIEW: Yep, Dredd 3D's Karl Urban Is One Charismatic Dude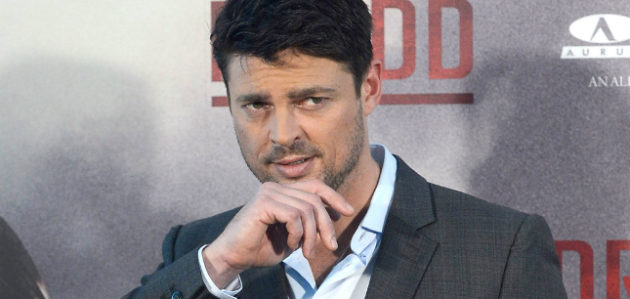 It's not after every interview that you stand up to leave and then your subject drops a bomb that changes how you see them, but at Fantastic Fest anything goes. So I was amused when, after talking opening night selection Dredd 3D (in theaters nationwide on Friday), lower jaw acting, and Indiana Jones baby names with actor Karl Urban, he mentioned he'd read my stuff. "Even the one where you said I have no charisma," he laughed. Mea culpa, Karl.

Months ago I'd written my reaction to the very first Dredd 3D trailer. "With Urban set to never take off that Dredd mask in the film — and delivering lines like 'I'm the law' with no trace of Sly's charisma — this feels like a precursor to the RoboCop reboot, only with less emotion," I opined. (Technically I never said Urban himself lacked charisma, but still.)
Later I caught the film's world premiere screening at Comic-Con and was pleasantly surprised to see how the film, directed by Pete Travis from a script by Alex Garland, navigated my concerns with strong performances by its cast — including, yes, Urban and his Judge Dredd grimace.
It turns out Urban not only is one charismatic dude in person (and onscreen, as his recent work as Bones in Star Trek attests quite plainly, and with his full face exposed!), he's got quite the sense of humor. I offered to reconsider my stance if he gave Fantastic Fest karaoke a whirl following tonight's Dredd 3D premiere, but the truth is in that moment I already had.
So, for the record: Karl Urban — charisma for days. Karaoke skills — to be determined. Enjoy our chat below and stay tuned for more from Fantastic Fest!
You've been in many geek-oriented properties but it was nice to see you dive into Comic-Con full on, and now Fantastic Fest, which is my favorite time of year.
It's good fun. I guess I only get to experience a small fraction of it.
Well, you'll experience it tonight when they take you to karaoke.
[Laughs] Oh, no. That would be a bad move. I don't know if you've noticed, there aren't many musicals on my resume.
That's true! Why is that?
Yeah, why is that? If you see me at karaoke you'll find out why.
Well — let's jump into Dredd. Stallone's version, which is quite different from your new one, came out 17 years ago. Where were you when it hit theaters?
I was living in Auckland. And Judge Dredd as a character was dear to me. I read it as a kid. I responded to the sort of tough, enigmatic lawman who is essentially a Man With No Name Western archetype —
The Man With No Face.
Yes, essentially — an enigma in many ways, but defined by his actions. The character and the comics were something that I read, but I went along for the movie.
As a fan of the comics how did you respond to the movie?
I think that film was very much a product of its time. You know, the way that comic book adaptations were treated in the '90s is quite different from how they're treated now, and tonally our films couldn't me more different. We're a lot grittier, a lot more realistic, a lot more futuristic and less sci-fi. And the character is actually quite different. Dredd in our movie is a bit more monolithic, he's a bit more stoic. He's a man of few words but he's got a great dry sense of humor. I think he's like a tightly-wound coil that is ready to leap forth at any given point, but the character is also compassionate — you can see that in when he chooses not to kill people. And there's a wariness about him which also humanizes him. Essentially I think the biggest humanizing factor is that relationship with Anderson. That, to me, is the heart of the movie.
In the beginning of the film Dredd is so consistent, and that consistency is one of his virtues — but over the course of the film he learns to be flexible, and learns to value life so much more.
Exactly. That's what I liked about it. The heart of this piece is this story of two people who get together, a senior cop and a rookie cop, they don't like each other, they don't particularly get on, and Dredd doesn't think that she's worthy of even wearing the uniform. But over the course of the film that changes, and I find that really interesting – for a guy who sees the world in such black and white terms and who often has to make a decision that results in life or death actions, to suddenly be confronted with the idea that he could actually be wrong about this person, I could be wrong about this situation… suddenly there's this whole gray area and what happens in the story is a tiny crack in Dredd's worldview. He does something at the end of this film that he would never do, that he would have difficulty explaining or justifying to anyone else, but he knows it's the right thing to do.
I found that to be so interesting in Dredd — so much of the film is filled with violence, and so much of the action looks "cool" as action movies do these days, but what I came away from the film was the feeling of the loss of life.
It is, and it's interesting that you should speak of that because I think it really does evoke a certain sadness. This is what humanity has degenerated into, and I think great science fiction films have that tone. Look at the sadness throughout Blade Runner; it's the same with Dredd, the state of humanity and often the choices that people within the film who live in Peach Trees [tenements], the choices they make.
Alex Garland mentioned that he spent a while going back and forth on the script and that you added your own notes as well — how did that work out?
It was a truly collaborative experience — one of the most collaborative experiences I've ever had. Alex, when he came onboard to write this, immediately contacted John Wagner, the creator of Dredd. A couple of months later Alex delivered a script and one of John's few notes was, "Dredd says less." So Alex in his next draft incorporated that note, cut down the dialogue, and we got to Cape Town. Three weeks before we're shooting Alex and I sit down for a script meeting and I open up my page and Alex sees these lines that I've drawn through his dialogue. He looks at it quizzically and I say, "Look, I love this dialogue — but Dredd says less." So from even there on we sat down and reduced it. I was lucky to be working with a writer who wasn't precious, who could see the value in economy. And that's one of the things in Dredd — the economy of movement, the economy of speech.
That seems like it might be unusual for an actor to voluntarily reduce his own dialogue, but then you took on a role where most of your face is obscured. Was that a hard choice to make? Was there any hesitation knowing that people might only see your jaw?
No, I guess I was blinded by the affinity I felt for the character. I didn't really start this by approaching it from a perspective of fear, a how the fuck am I going to do this? It was just like, Okay, this is a challenge. What have I got to work with?
Is there a secret to acting just with your jaw?
Well it's not actually just acting with your lower face. You're using your voice and your physicality, how you do something. If you think about the massacre that occurs in this film, the loss of innocent life. At that juncture you can see a violent gear shift within Dredd and the way he treats Wood Harris' character, the perp-prisoner, Dredd gets a little off the leash at that point and that's an emotional response to what's just gone on.
That's a good point. Can we also talk about the female characters in the mix? Lena [Headey] as the big boss is a wonderfully complex, ferocious character.
The women in this film are bad ass. They are dominant and proactive and smart and scary and formidable. Lena is so compelling to watch, particularly to work with; she made choices that are so left-field and scary as a result. And of course Olivia does such an extraordinary job of bringing a humanity to this whole story; she's a key way into Dredd, but she humanizes the story with her vulnerabilities and her insecurities and you see her grow — she becomes empowered, she becomes a tough and badass judge.
You've been in Star Trek and comic book movies and, tell me if this is right — I read that you named one of your children after Indiana Jones?
My wife, actually, had the dibs on that one. I got to name the first son. But we were watching Raiders of the Lost Ark and it was the scene where Marion's been abducted by the Arab swordsman and she's in the basket going, "Indy!" We were sitting on the couch like, Indy — let's do that. So yeah, he's named after a famous abduction. [Laughs] I go to him sometimes, "Doctor Jones!? Have you brushed your teeth, Doctor Jones?" And he loves it. His nickname is Jones.
Given all that I've wondered if you've taken to messing with the media when it comes to Star Trek spoilers. Are you messing with us?
No! I don't believe I messed with you. I promised exclusive footage at Comic-Con, and I gave exclusive footage. I didn't lie!
Follow Jen Yamato on Twitter.
Follow Movieline on Twitter.