Innocence of Muslims Filmmaker Nakoula Basseley Unmasked By New York Tabloids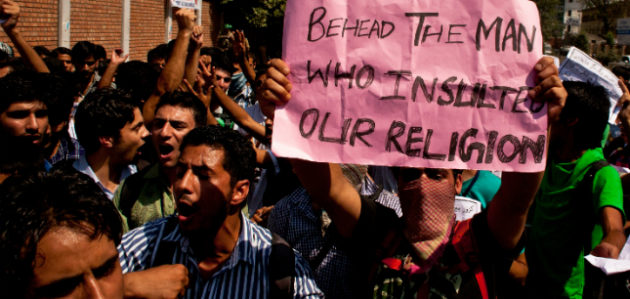 As protesters in Pakistan, Indonesia and Afghanistan raged against the anti-Islam film Innocence of Muslims over the weekend,  the media was also awash with photos and video of the Egyptian immigrant first tied to the crude inflammatory video, Nakoula Basseley, as he was escorted from his Southern California home looking like the Elephant Man so that he could be questioned by police. (See the video after the jump.) Basseley, who was first identified as Sam Bacile — a pseudonym that calls to mind the word "imbecile," — covered his face with a white scarf and wore a newsboy's cap on his head to protect his identity. His appearance didn't remain hidden for long, however.
Both the New York Daily News and the New York Post have run a picture of Basseley, sans disguise, sitting with one of the actors in Innocence of Muslims, Anna Gurji, who has been talking to a number of media outlets, and wrote a letter to the horror/fantasy writer Neil Gaiman about how she and her fellow cast members were duped by Basseley.  (Gurji also notes in her letter to Gaiman, which he posted on his website, that The Happy Hooker Goes Hollywood helmsman Alan Roberts (a.k.a. Robert Brownell) was the director of Innocence of Muslims.)
Basseley, who's reportedly a 55-year-old Coptic Christian who immigrated from Egypt, does not have the face of a man who sparked a wave of violence that led to the deaths of U.S. Ambassador to Libya  J. Christopher Stevens and three other American diplomatic staffers.  What's that they say about the banality of evil?
'Innocence of Muslims' Filmmaker Jailed -- Basseley Gets 1 Year in Prison, But Not For Movie
Follow Frank DiGiacomo on Twitter.
Follow Movieline on Twitter.