WATCH: Google + Premieres Lincoln Trailer During Glitchy Q&A With Spielberg And Gordon-Levitt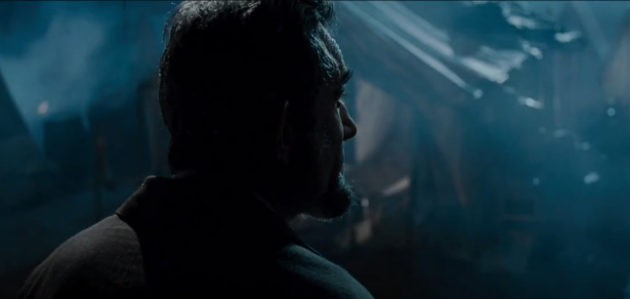 Steven Spielberg debuted the trailer to Lincoln, his highly anticipated film about the 16th U.S. President at 7 p.m. on Tuesday, but the experience was less-than-mesmerizing. That's because the webcast was initially plagued with glitches that left some viewers with nothing more than a "buffering" notice or moments when the trailer seemed to fade in and out of blackness.  The Google + Hangout session with the filmmaker and Joseph Gordon-Levitt, who stars as Lincoln's son Robert Todd Lincoln, was also bedeviled by sound problems that turned the question-and-answer session into an annoying echo chamber.  If you didn't — or couldn't — see the trailer during its premiere, check it out after the jump, along with the first images from Spielberg's '12 Oscar contender. 
PHOTOS: First Images From Steven Spielberg's Lincoln
The sound problems were eventually corrected, and Spielberg remarked that Lincoln "is a figure in this national landscape who hasn't been re-examined enough," except, he added, as parody.  According to Spielberg, the last movie to take a substantial look at the historical figure was the 1939 feature Young Mr. Lincoln, in which Henry Fonda portrayed him in his pre-presidential days as a lawyer.
"I think a figure as great as Abraham Lincoln deserves re-examination," Spielberg said.
Gordon-Levitt took a more personal approach to the Q&A, taking time to give a shout-out to his high-school AP  U.S. History teacher, Mr. Bechtel — I'm guessing at the spelling here — who the actor said was one of his favorite teachers because he presented history as if it were "story time" instead of reducing it to "a bunch of facts and multiple-choice questions." Gordon-Levitt also said he was "honored" to work with Spielberg.
Here's the trailer. Instant Oscar powerhouse?
Follow Frank DiGiacomo on Twitter.
Follow Movieline on Twitter.