Spielberg's Lincoln Coming to Election, Oscar Seasons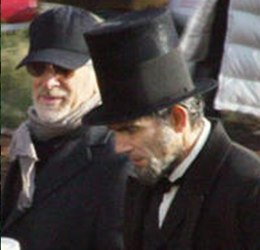 No one really doubted that Steven Spielberg's long-gestating, class-AA historical biopic Lincoln wouldn't land a release date in the middle of Oscar season. But with Disney announcing today that it will release the Daniel Day-Lewis-starring, Tony Kushner-written film in limited release on Nov. 9 — three days after Election Day — the studio has situated Lincoln in a zone ripe for hype.

I mean, it's not as though candidates, voters and pundits are going to spend much time contextualizing this year's election against the political and historic implications of Skyfall (also opening Nov. 9) or The Twilight Saga: Breaking Dawn - Part 2 (against which Lincoln will compete in wide release one week later on Nov. 16). This makes the 16th president as relevant as ever among a polarized culture endlessly yearning to claim him for one side or another — Republican saint, the Great Emancipator, you name it. What story will Spielberg and Co. tell? How can we make the presidency great again? Tune in at 7, only on FoxSNBCNN to find out... Etc. etc. At least we won't have to wonder which shadowy PAC is paying for the TV spots — which, we should not overlook, will provide many welcome 30-second respites between all the October mudslinging to come. Thanks, Disney. And well-played.
[Deadline]