Lizzy Caplan and Adam Scott Talk Reuniting in Bachelorette, Spill Party Down Movie Details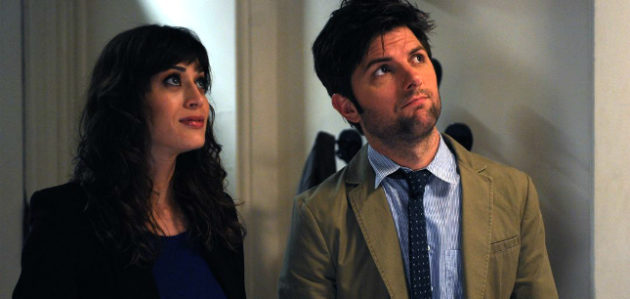 Lizzy Caplan and Adam Scott haven't hung up their pink bow ties just yet.
Although cult hit Party Down has been off the air for two years, fans of the show split their time between making Party Downton (Party Down + Downton Abbey) memes and petitioning for a film. And while there have been mini-reunions on Children's Hospital and web series Burning Love, none compare to Lizzy Caplan and Adam Scott's team-up as feuding former couple, Gena and Clyde, in Bachelorette, in limited release now.

Movieline chatted with the reunited pair, discovering that Caplan basically wrote Scott's character into the film, and what the duo thinks Henry and Casey (their Party Down counterparts) are doing at this very second.
Bachelorette originated as a Leslye Headland's off-Broadway play, and you had worked with her before, Lizzy. Did you get Adam on board?
LIZZY CAPLAN: [Adam and I] saw the play together because me and Jessica Elbaum, one of the producers of Bachelorette, hired Leslye to write a pilot for us. And so we were all in New York and we went to check it out. And then about a year later, we found out they were doing this movie. Adam's character is not in the play, but I said he would be opposite me and it would really help me out if my buddy could join me and make me look good on camera. And he said yes!
Did you actually craft the character of Clyde for him, or did you two collaborate?
CAPLAN: No. It was in the feature version always, but I think everybody was allowed to bring their own flavor to it.
It felt like you two were the heart of the movie. Do you think your history made it easier to convey Gena and Clyde's chemistry and relationship in general?
CAPLAN: I remember talking to Leslye about how... I mean, every year, the fan base for Party Down grows, so when we started shooting this movie, we were starting to get sort of this cult following. So for this segment of the population, seeing the two of us on screen, you just get that added history without us having to do anything. But a lot of people still haven't seen Party Down, so, I don't think it's going to piss too many people off. I think people are most excited to see us on screen together because they still feel like they're in this little tiny insular secret club that knows about Party Down.
Megan Mullally spilled the beans about the status of the Party Down movie, claiming you aim to start filming early next spring. Do you have any updates?
ADAM SCOTT: You know, we're all just crossing our fingers that it will start... anytime? I don't know about spring or summer, but that would be great! We're all just kind of crossing our fingers and hoping that at some point we'll make the movie. But there's no news as of right now.
Where do you imagine Henry and Casey are now? Would they be anything like your characters in Bachelorette?
CAPLAN: Well, hopefully they wouldn't be anything like our characters in Bachelorette.
They have a happy ending, kind of!
CAPLAN: Yeah, I guess they do. But when I think about the next day after Bachelorette, I don't know what happens to these two people. I don't really see them making it work necessarily — they're both too screwed up. And with the [Party Down] movie, I mean, the thing with our relationship in that show is that you could have us together, like in the first season, or you could have us apart for the first few bits of it like in the second season, and it sort of always works. So I don't even really have a preference there.
SCOTT: I don't know! It's up to John Enbom and Dan Etheridge and Rob Thomas, the guys that write the show. Whatever they come up with is usually sort of the best way to go. I actually think about it probably more than I should because they are fictional characters that do not exist, but I think of them a lot.
What do you think they're doing right now?
SCOTT: Hmm... I wonder what they're doing right now...
CAPLAN: Napping.
SCOTT: Napping. They're always napping.
CAPLAN: They're napping.
SCOTT: I think that if there's ever a Party Down movie, everyone else will be catering, and Henry and Casey will be napping.
CAPLAN: I think that works. I think maybe you could sprinkle three to four naps in one feature film!
SCOTT: It could be great!
Adam was on Burning Love, but Lizzy, you were one of the only former cast members who didn't pop in...
CAPLAN: I think they're doing another season of that, and they know like I'm soooo down to do it. I don't know what I was doing at the time — you'll have to ask Ken 'ASSHOLE' Marino about that.
Would you two like to keep doing films together even if this Party Down thing doesn't happen for a couple of years?
SCOTT: Ugh! [Scoffs]
CAPLAN: [Laughs] think we are both fans of working together, and we try to give it a little time between projects so people aren't sick of us. Or Adam. So people aren't sick of Adam.
SCOTT: Um, yeah. I... I don't know. I thought I liked working with Lizzy, and then we did this movie and it was just like, ugh. [Feigns disgust] Shut up! Just SHUT UP!
CAPLAN: Well, somebody's got to talk. You would not believe how quiet this man can get and for how long he can do it for.
SCOTT: Ugh! [Feigns disgust again]
CAPLAN: You'd probably get to ask like two or three questions if Adam wasn't on the other phone right now, because, Jesus!
SCOTT: But that all being said, yeah. If Lizzy could be in everything that I do, I would be all the better for it. So, hopefully we can do lots of other stuff.
CAPLAN: What a nice guy. Oh, he's going to come across as so sweet in this interview.
SCOTT: Incorrect. That is not the thing!
But honestly, congrats to both of you — Bachelorette held steady as the #1 rental on iTunes up until its release. Do you think it will make more people go see it in theaters or do you think more will see it at home?
CAPLAN: It will be interesting to see. I think everybody's kind of waiting to see the answer to that question — if this dissuades people from going to the theater or not. But if you're going to release something on Video On Demand, you want it to be number one! So we're all pretty happy about it.
SCOTT: I think it will help with theatrical. You know, it basically serves as a really, really great marketing tool ... It kind of just appeared on iTunes and On Demand and did really, really well. So I think all it shows is that there's a lot of interest for it, [and] I feel like it will do really well.
CAPLAN: I'm seeing people tweeting and stuff about how they watch it more than one time. And it's a much different experience to see a comedy in your house than it is to see it in an auditorium full of people. So I'm hoping people want to have that experience.
SCOTT: An auditorium? Are people seeing movies in auditoriums?
CAPLAN: I tend to watch my movies in church basement auditoriums.
SCOTT: I like 'em in cafeterias.
CAPLAN: Oh, you do? I didn't know that about you! So much more cool.
I think they're broadcasting Bachelorette in public now — in Central Park. That's where it will go next. I think it's a great movie for kids to see outside!This movie is a great influence on kids, after all.
CAPLAN: I totally agree. I'm gonna put a call in right after we finish up here about showing it to children in a park.
Adam, you have kids, so you should show it to them really soon.
CAPLAN: Take 'em to the park, Adam, and show them the movie!
SCOTT: I think it would be great to show this movie to small children. It's perfect for them.
Bachelorette is in limited theaters.
Alyse Whitney is an editor at Wetpaint Entertainment in New York City. Her work has been featured on TVLine, Movieline, and Bon Appétit, among others. You can find her on Twitter at @AlyseWhitney.