The Party Down Movie Will Film in 2012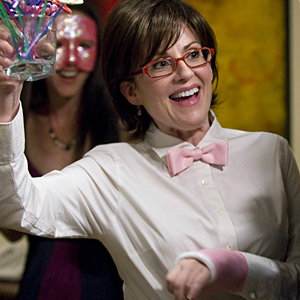 Party Down fans, there is finally real hope: According to series co-star Megan Mullally, a feature film continuation of the cancelled show, about Hollywood hopefuls employed by an L.A. catering company, is on its way with most of the original cast likely to return. Get more details after the jump!

Spilling the news over the weekend at the Television Critics Association tour, where she was promoting her new show Breaking In, Mullally dropped more concrete details on the film, which her co-stars and series co-creator Rob Thomas have hinted at for months.
According to The Hollywood Reporter, Mullally says the Party Down film will pick up where the show's second season ended when it was cancelled by Starz in June of 2010, and that "the entire cast is coming back, with the possible exception of Jane Lynch, who she was not sure about."
Co-creator John Enbom is currently writing the script, with shooting to commence this spring or summer. Shooting during the spring hiatus makes the most sense, since various Party Down alums have since scattered to other shows.
So, fans -- how excited are you to hear of actual movement on a Party Down movie? And is it too early to start planning a double feature movie night with the eventual (knock wood) Arrested Development movie?
• TCA: Megan Mullally Confirms 'Party Down' Movie Shooting in 2012 [THR]