WATCH: The Dude (The Real One) Abides Online In Jeff Feuerzeig Documentary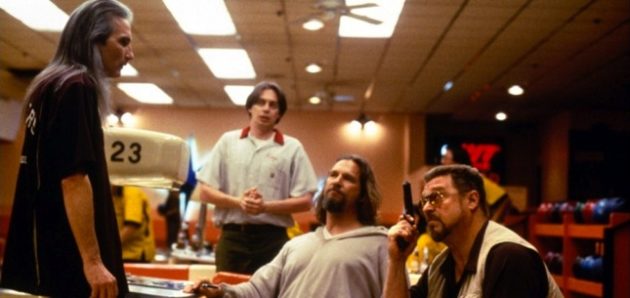 "Sometimes, there's a man, well, he's the man for his time and place," the molasses-and-whiskey voice of Sam Elliott says of The Dude in the Coen Brothers' 1998 cult classic, The Big Lebowski.  And thanks to filmmaker Jeff Feuerzeig, the time and place for the actual Dude who inspired the Dude will span a good 40 years at least.
The Atlantic today posted a link to The Dude (Director's Cut), a 2011 documentary (in its entirety) by Feuerzeig (The Devil and Daniel Johnston, The Real Rocky)  that traces the history of Jeff Dowd, a 1960s antiwar activist-turned-independent-film-promoter, who not only inspired Jeff Bridges' accidental philosopher character in The Big Lebowski  but helped the Coen Brothers distribute their first film, Blood Simple, in the 1980s.
Dowd's first taste of notoriety came in 1970 when he made headlines as one of the "Seattle Seven" — members of the Seattle Liberation Front who were  indicted on charges of inciting a riot at the Federal Courthouse in downtown Seattle where 20 people were injured and 76 were arrested.  (His arrest is cited in The Big Lebowski.) Dowd and his fellow defendants turned their fall trial into a media circus by hurling catcalls at the judge, and staging a courtroom walk-out.   The judge eventually declared a mistrial but cited the Seattle Seven for contempt and they ultimately served three months in prison.
In Feuerzeig's film, Dowd also talks about how he landed in the film industry where he worked with Robert Redford on the embryonic stages of the Sundance Institute. According to IMDB, Dowd served as producer's representative on Madonna's breakthrough movie Desperately Seeking Susan and as a producer of the 1992 film Zebrahead.
Check out Feuerzeig's film and the real Dude below:
THE DUDE (Director's Cut) from Jeff Feuerzeig on Vimeo.
Follow Frank DiGiacomo on Twitter.
Follow Movieline on Twitter.