Colin Farrell's Total Recall Remake 'Was Not Good' And 8 Other Revelations From Paul Verhoeven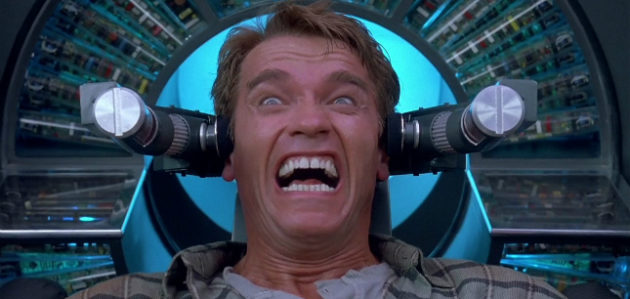 Having labeled the 1990 sci-fi Total Recall "cheesy," it was only a matter of time before the makers of this summer's lackluster Colin Farrell-starring remake had the tables turned on them by Paul Verhoeven, the original film's director.
And so, Friday at a sold-out screening of the Arnold Schwarzenegger classic at the Egyptian Theatre in Hollywood, Verhoeven seized the opportunity for a little payback, a good-natured gleam in his eye. "Colin Farrell called it in an interview 'kitschy,'" he declared with a smile. "So I dare to say that his version was not good."
Verhoeven revisited the making of the film over 22 years ago over the course of an hourlong Q&A, joined by screenwriters Ron Shusett, who first optioned Dick's short story "We Can Remember It For You Wholesale" and co-scripted Total Recall and Alien with the late Dan O'Bannon, and Gary Goldman, who came on to help flesh out a third act and penned many of the film's memorable one-liners.
The trio shared memories of the film's long journey to the screen, the difficulty in adapting a writer as brilliant as Philip K. Dick, and the unique challenges and benefits of writing for a star like Schwarzenegger. Scroll down for these and more highlights from the evening, including Verhoeven's favorite scene! Why he cast Sharon Stone in Basic Instinct! The connection between Total Recall and Alien! (Plus: an update on his Winter Queen adaptation, which was to star Milla Jovovich but, he says, "fell into the wrong hands.")
1. VERHOEVEN ON THE TOTAL RECALL REMAKE
"Arnold being there made the movie a little light, and I think that's very important for these Philip Dick stories," he said. "I think if it would have been done in a straight way, I'm not so sure that it would have worked – at least, not at that time. And recently [in the Total Recall remake], it did not. I get to say that because the producer of the new one said that this was cheesy or something. And Colin Farrell called it in an interview 'kitschy.' So I dare to say that his version was not good."
2. THE LONG ROAD TO TOTAL RECALL
A notoriously long and troubled development saw Total Recall nearly derailed many times, as Shusett recalled. "Sets were being built in Germany, in Australia, and Mexico City — all over the world — and being cancelled. At that time it was the most expensive movie ever made… it was cancelled so many times that when I asked if they would save it, they said the only way we could do this was if we called it Partial Recall."
Once Schwarzenegger signed on, he lent his star power to supporting collaborators behind the scenes. Shusett, who'd written and was producing the project, was nearly removed from the film until Schwarzenegger stepped in on his behalf; the actor also handpicked Verhoeven to direct, as the filmmaker remembered. "Arnold picked me," said Verhoeven. "Arnold was after this project for a long time… they had started to shoot in Australia and then [Dino De Laurentiis'] company fell apart and went bankrupt. Then Arnold convinced Mario Kassar of Carolco to buy the script out of the bankruptcy. And at the same time he said to Mario, 'I want Paul Verhoeven because I have seen RoboCop.'"
Even with Verhoeven onboard, the script was missing a conclusion. "I felt that something had to happen in the third act that would also be also a little bit philosophical or ambiguous or something, but that was not there," he said. "And I really got scared – there were like 40 drafts where it was not solved. I thought, it's unsolvable! It can't be done! But I had signed already."
3. THE PHILIP K. DICK CHALLENGE
"The other Philip Dick movies all failed for one reason," declared Shusett. "He's so brilliant with his set up, he paints you into a corner, he has no ending, there's barely a second act, and if you don't match his brilliance with a third act the audience is disappointed. You have to go to extreme length, talent and luck, and come up with an ending that's worthy of his brilliant set up. That's why it took six years to get a third act!"
Verhoeven's ambiguous ending leaves open both possibilities that Quaid is either experiencing real life or a fantasy. "I felt that it should be both. I thought in retrospect this is probably the first post-modern film," said Verhoeven, adding that "the producer of the new one asked me [if it's real or not]. I said no it's both, and he said, 'That's nonsense.'"
4. SHARON STONE: FROM LORI TO BASIC INSTINCT
"For me, casting Sharon was very handy because I started to realize during the shoot what she could do," revealed Verhoeven. "There's this beautiful moment when they kick the shit out of [Schwarzenegger] and Rachel [Ticotin] comes out of the elevator and starts shooting. Sharon is on the ground and looks at Arnold … and it was exactly these 5, 6 seconds that made me decide to take Sharon Stone for Basic Instinct. It was based on the fact that she could do that so fast and so believable and she is so mean and so nice and charming, one after the other, that I thought she would be perfect for Basic Instinct."
5. THE REAL LIFE INSPIRATION FOR RICHTER'S DEATH
As a child, Verhoeven played in an elevator that he briefly thought might cut off his legs as he dangled them over the side. He exorcised his lingering horror at the thought by condemning Michael Ironside's Richter to death by elevator amputation. "I often think about it; I would have been without legs."
6. VERHOEVEN'S FAVORITE SCENE
"I came to the scene that is still one of my favorite scenes, the Dr. Edgemar scene with Roy Brocksmith, who comes to Arnold on Mars and says what we see in him, 'You are not here.' I thought that was such a fascinating scene to dare to do that, to say something to the audience that they have been looking at something that is completely not true, and then prove to them that it's true again."
7. PAUL VERHOEVEN'S CRUSADE, STARRING ARNOLD SCHWARZENEGGER
Verhoeven spoke fondly of Crusade, the famously never-produced period epic that would have reunited Verhoeven and Schwarzenegger in 1993. "We tried very hard when we were setting up The Crusades. The script was written by Walon Green, and we were supposed to shoot it then Carolco went into Chapter 11 and the movie was never made. Certainly Ridley Scott did Kingdom of Heaven but it was, again, with Arnold, a lighter version of The Crusades but very critical of the Christians."
8. ABOUT WRITING FOR/DIRECTING ARNOLD...
The Quaid character was originally written as an accountant, but that idea (not to mention the suggestion that he could pass as an everyman) went out the window when Schwarzenegger was cast. "It seemed completely ridiculous," Verhoeven said. "We realized we had to give him a completely different job. Jackhammer worker. We adapted everything to Arnold because I felt that you could not go around Arnold!"
"We wrote it like he was just an ordinary Joe, like Jeff Bridges, one of the earlier persons who was going to do it," said Shusett. "And you don't know he's a super agent but Suddenly he's believable – so he could be a nerd, and not. But we realized everybody knows Arnold's going to be the real secret agent … but if you can get it made, it turns your mind around."
"In retrospect," Verhoeven added, "I'm very happy that Arnold was forced upon me."
9. TOTAL RECALL AND ALIEN
Schusett took the audience back a few decades to tell the story of how Total Recall and Alien sprang from a moment of mutual writer's block between him and Dan O'Bannon.
"He said a lot of people want to be writers – he was very blunt and could cut you down in a minute, but he was always truthful," Schusett laughed, remembering his initial meeting with O'Bannon. "'Can you show me something you've written?' I went home and gave him something I wrote, a spec script. He said, 'You're good – come on over, I have a proposition for you: I can help you finish this if you can help me finish this.' And he pulled out this thing, he had 29 pages written. He said, 'You can't take it with you because I don't know you and I don't trust you yet, sit down here and read it.' And I sat down and read it, and it was the first 29 pages of Alien.
I said 'This is brilliant.' He said, 'Yeah – and I'm stuck. What I see in you, I think you've got a good enough mind to help me make it work. So I'll help you fix Total Recall and make it a reality, at least the script, and you help me fix Alien.' And that day, both movies were born."
BONUS: THE WINTER QUEEN IS DEAD
Verhoeven explained why the adaptation of Boris Akunin's Russian novel he was producing is no longer happening. "The Winter Queen fell into the wrong hands, so it will not be made," he said. "I think the time might have passed for this kind of lightness that was in the movie – nowadays everything is so hard and serious. It would have been a very light adventure story at the end of the 19th century, Russians – I mean, played by Americans or English [laughs] but I don't think that's going to be made, no. I would have loved to do that five years ago."
Follow Jen Yamato on Twitter.
Follow Movieline on Twitter.