Dania Ramirez On Premium Rush Hazards, Staying Sexy On A Bike, And Being Discovered By Spike Lee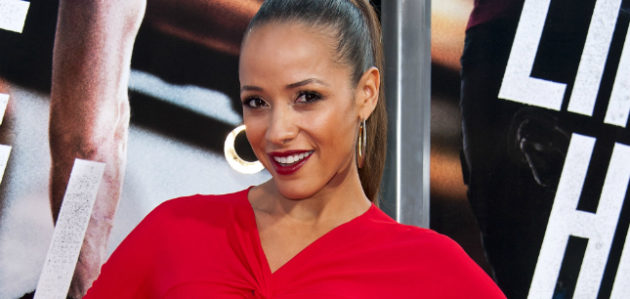 In the latest installment of ARRIVALS, spotlighting breakthrough performers, Movieline chats with Dania Ramirez, who cycles to stardom opposite Joseph Gordon-Levitt and Michael Shannon in this week's Premium Rush.
As Vanessa, the tough bicycling beauty of David Koepp's adrenaline-fueled Premium Rush, Dominican-born Dania Ramirez (X-Men: The Last Stand, Entourage, Heroes) bursts onto the screen with such vitality that it's no wonder director Spike Lee gave Ramirez her big break, years ago, after recognizing her as a former extra on one of his shoots.

Ramirez, a onetime college volleyball star, credits her career to Lee (she appeared in his Subway Stories, The 25th Hour, and She Hate Me before carving out a career in TV and film; she's got Marc Cherry's Devious Maids series lined up for 2013). She spoke further with Movieline about her career beginnings, the artistic impulse behind her short spoof "Ass and Titties," her real life job history (McDonalds to Rollergirl!) and her bicycling horror stories from the set of Premium Rush, in which fellow NYC bike messenger Joseph Gordon-Levitt woos her while they both tangle with a crooked cop (Michael Shannon).
In a lot of movies it's a little disappointing to see cutaways in action scenes that make it obvious that the actors are not doing their own stunts, but in Premium Rush it's at least clear that you guys knew your way around a bicycle.
The good thing about this movie is that a lot of the movie takes place on the bikes, so we had to get good at riding, and to a certain extent doing stunts. [Laughs] But don't get me wrong, this is not to take credit away from the amazing, talented stunt people that were on set helping us out. There's a fall that I take where I jump into the air and I could never have done that. Thank God for my stunt double! Joe [Gordon-Levitt] had four other people coming in and helping out. But we trained for six weeks in L.A. prior to shooting – to make sure our endurance was up, but also learning how to jump curbs and skid the bike and stop and turn so that we could do most of the cool sort of riding within the scenes and not have to have a stunt person come in. This not a movie full of CGI and effects, it's a movie that you feel we're really in danger and the ones doing everything. That's what's cool about it. That's what makes it authentic.
During the end credits there's a neat but kind of horrifying video of [Joseph Gordon-Levitt] bleeding profusely after smashing his bike into the back of a cab.
Yeah! He got 31 stitches. He went through a cab's windshield! We had been filming for, I think, a month and a half, and that was definitely a moment when Joe and I looked at each other and said, 'Maybe we should let the stunt people come in and do the stunts.' [Laughs] We were so committed to wanting to be these people, and sometimes as an actor you wind up feeling invincible…
That you have your characters' abilities?
Yes – you feel like you are this bad ass bike messenger and the truth is, we're actors.
Did you have any spills yourself?
I fell every single day I worked, almost. I had bruises everywhere. I had these two gouges on my leg while I was riding, when I hit the mirror off the cab because my chain went into my wheel and I hit a pothole and hit the ground hard. We hit the ground all the time! I needed make-up all over my legs to cover up my bruises on a regular basis. But I like it. I like the adrenaline.
And you're a former athlete, which probably helped.
I played volleyball at Montclair State – I did not ride a bike prior to doing this movie, I actually had a bike phobia. I fell down when I was like seven years old, really hardcore, and I did like three flips in the air with my bike. So this was an opportunity for me to sort of face my fear. And I did, and now I love it! I have two bikes now that I own and I'm training for the Malibu triathlon on September 16, I believe. So I've been training!
Well, I feel that I can now share with you my secret: I still can't ride a bike.
You have to try! Now that you've watched the movie doesn't it inspire you to go learn? Maybe you can start by the beach, with a beach cruiser.
I'll give it a shot.
I think you should!
Even if I should learn, at long last - how does one master the art of looking sexy while working up a sweat on a bike? You do that well, along with the rest of the cast. What is the trick to that?
You're the second person to call that sexy – I was not trying to be sexy! I don't know how that came across sexy! I honestly was sweating, it was New York City in the summertime… Joe and I both were sweating bullets as the cameras were rolling, having to change shirts on a regular basis because we were so sweaty. But I think that's what makes it so hot! The fact that we were sweaty, and raw, and it's New York City. [Laughs]
Now, let's take it back to the beginning. Legend has it you were discovered by Jay-Z…
My first time on camera ever I did Streets Is Watching, a compilation of music videos that he was doing. It was sort of like a mini-movie. An interesting part about me is that I didn't grow up in this country and acting wasn't something that I knew anything about, or something that I grew up thinking I could actually do for a living. So when I got cast in that I took it really seriously – and then came to find out that it was just a music video. [Laughs] But I don't regret anything I've done in my life, and I love the fact that that was the first thing I'd ever done. I went from that to then walking into a featured extra situation with Spike Lee that led to my first starring role in a film, in Spike Lee's She Hate Me. Spike was actually the first to discover me, as far as giving me respect within the industry.
How did that happen?
I was 16 years old and I went in for Subway Stories, a little mini-series he did for HBO, and I was a featured extra but it was the first time I got a SAG card. Right after that I started taking acting classes in New York City at the Actor's Workshop studio and then I took a few years off to go to school. When I came out I did a commercial that Spike Lee directed for Kmart that led to him writing a part for me in 25th Hour and a few months later I went in and auditioned for She Hate Me, to play Alex opposite Kerry Washington.
You must have made a great impression at 16.
When I did the Kmart commercial he remembered me from Subway Stories! I remember him remembering me while I was shooting the commercial, he brought it up. That was the last time before I got kicked out of my house that I walked into my dad's house, we were shooting nights so I got home at like 6 o'clock in the morning and it was the day before I started college. My dad was like, 'You're either going to do this and be a lawyer or you're going to do [acting].' So I just never went back home. Spike is a very influential part of why I'm here today.
Wow. It's fantastic that he saw that something in you so early. Now, there's a line in Premium Rush in which your character says she works as a bike messenger because she hates waiting tables.
I've done every kind of job there is, from working at McDonald's to doing a music video to roller blading at the Roxy. [Laughs] I was Rollergirl for a while! But I don't act because I hate to wait tables, I actually act because I think it's what I was always meant to do.
Random question: What's behind your Instagram handle, @markofthebeast?
Mark of the beast! I'm a beast, and I want to leave my mark on everybody that dares to look. [Laughs]
I remember watching you in a short film spoof, playing Nicki Minaj…
It wasn't so much a spoof of Nicki Minaj, that was more of a parody of America. To be honest with you, it was a way deeper message than what people took away from it. It's called "Ass and Titties" and it's about how in America these days you sort of get paid more for shaking your ass and titties than for your talent. That's what the parody was about.
Why Nicki Minaj?
I had to choose – I'm not a rapper! I had to choose someone to channel the song through, so I chose Nicki Minaj. But I think everyone had a good response to it. You know, I'm an artist and I was just being an artist about my views in life, and if you have a good sense of humor about yourself it's great. I don't have anything against Nicki Minaj, or anybody that's [parodied] in it!
Premium Rush is in theaters today.
Follow Jen Yamato on Twitter.
Follow Movieline on Twitter.