Sparkle Castmates Remember 'Vibrant' Whitney Houston: 'It Was One Of The Best Times Of Her Life'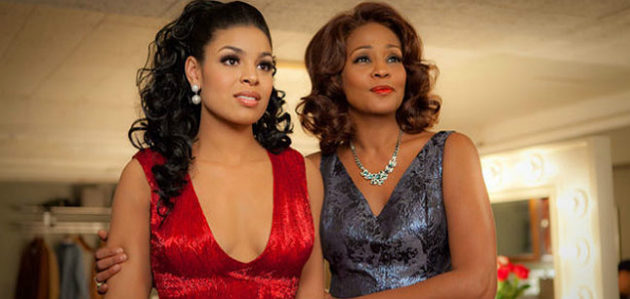 Friday's release of the R&B musical remake Sparkle marks a bittersweet triumph for the late Whitney Houston, whose death in February preempted what many, including producing partner and friend Debra Martin Chase, insist would have been Houston's comeback. Co-stars Jordin Sparks, Mike Epps, Tika Sumpter, and Carmen Ejogo remembered the iconic Grammy-winning singer, actress, and executive producer as a "vibrant" and "open" force on set who was gearing up to bounce back from her recent personal troubles.

Jordin Sparks, who stars as the talented but self-conscious youngest daughter of Houston's strict churchgoing Emma, first met her idol at Clive Davis's annual Grammy party but was too shy to speak with her at length until they arrived on the Detroit set of Sparkle.
"She was so down to earth, she just wanted to sit with us and talk with us and get to know us," remembered Sparks. "She could've just been like, 'I'm gonna do my scenes and go back to my trailer,' and that wasn't how she was. She'd be sitting, watching. Of course she was executive producing as well but she didn't really have to be there. [She'd ask] us if we needed anything and if we were okay. And it was amazing to be able to go through that because, you know the supernova, diva, THE voice... and she's just going, 'So, what's your favorite thing?'"
In May, three months after Houston's death, Sparks was asked to sing Houston's iconic "I Will Always Love You" at the Billboard Awards. "She was always very encouraging, which I really took away from when I had to sing her song," said Sparks. "It was the scariest thing I have ever done in my life. But I just heard her in the back of my head going, 'You got this, you got this, you're good,' because that's how she was on set."
Mike Epps met Houston and Bobby Brown on the set of a music video years ago before facing off on-screen against her as Satin, the slick comedian who dates her eldest daughter.
"She was off the hook," Epps enthused. "She was really really vibrant. She was just full of life and really alive. She was just happy to be there. Every chance I got I'd ask her about Dionne Warwick because it's just amazing to me that she's part of that family. My mother was a big fan of Dionne Warwick. [Houston] was telling me about Stevie Wonder and she had me die laughing. She'd say 'Ya know, Stevie, he was drunk as a motherfucker.' I'd ask her, 'How does he get drunk? He can't even see.' And she'd say, 'He's having a better time than anybody!"
"When she first saw me on the set, she said, 'Let me get a picture with you!' That threw me off. I was like, 'You want a picture with me?' She said, 'My daughter, Bobbi Christina, told me 'You don't know everybody, mama,' and I said to her, 'Shit, I know everybody in the business!'"
Producing partner Debra Martin Chase shared a company (Brownhouse Production) with Houston and produced her previous screen outing, The Preacher's Wife. She remembered Houston as a friend and artist full of ideas — the suggestion of a Sparkle remake was Houston's, Chase revealed — who was on the cusp of mounting a career comeback.
"[Houston] would call me periodically with interesting ideas and one day she called and said, 'What about Sparkle?' She loved this movie so much. It was the happiest I have ever seen her on a movie. She loved the cast, she loved [director Salim Akil], she loved Detroit… she was just passionate about everything."
Even as she finished her work on Sparkle, Houston was enthusiastic to get started on their next collaboration. "It's funny — when she was leaving, she was walking off set that last night and I was walking her out, she said, "I've got our next idea! We should do David and Bathsheba! I've got an idea for it!" said Chase. "I just laughed and said, 'Girl, go get on your airplane!'"
"She was back. Before that she wasn't in the space… but this brought her back. She's fabulous in the movie, she felt good, and she knew she gave her best performance," Chase shared with a smile. "I'm just happy it's the last image that people will have of her."
Tika Sumpter plays the confident aspiring doctor Dolores, Houston's middle daughter in the film. She recalled Houston's maternal side on set, which transcended her performance.
"Growing up, my sisters and I would look at her album covers," marveled Sumpter, who says her tearful farewell scene in the film opposite Houston is her favorite memory from set. "In those moments she was just so vulnerable and so open as an actor. So giving, and there, and very present. She had such a great presence for me — I felt like I wanted to take in everything I could from her. She was just a nurturing body... vulnerable and open and loving. And that's what I loved about her."
Playing the role of the sultry Sister, a talented singer who spirals out of control as the girls finds greater fame, Carmen Ejogo felt a powerful connection to her onscreen mother.
"I feel like [Houston] came into the movie knowing there was something to prove on her part to some degree, and there was a humility on her part as a result," reflected Ejogo. "That meant at times I forgot how massive she was. She was the first concert I went to see! That's something that you realize after the fact, and you're like, whoa — this is remarkable. I feel like we had a really lucky moment with her because as her sister-in-law said at her funeral, it was one of the best times of her life and it was so evident every day."
For Ejogo, filming her final scene with Houston brought Houston's real life past and the troubles of her own onscreen character in uncanny parallel. "[There is] an artist called Marina Abramović — she's somebody who literally sits across from you and is entirely naked — and I felt like I had that moment with Whitney in the last scene of the film, where she and I are mirroring each other."
"It felt like this art-meets-life kind of moment because Whitney in real life is very much embodied in Sister as a character, which is something she was very aware and open about," Ejogo continued. "It felt like a very pure, naked moment between two actors, but also two people that were connecting on a really deep level. And that was the last scene she filmed in the whole movie. After that it was time to wrap for her and that was a really emotional moment because I really saw, in that moment, that she had had a really positive experience that was just coming to an end."
Stay tuned for more on Sparkle, which opens Friday, and watch below as the cast talk more Sparkle and Whitney Houston at the film's New York premiere with Beyond the Trailer's Grace Randolph.
Follow Jen Yamato on Twitter.
Follow Movieline on Twitter.