In Movie Memoriam: Whitney Houston and The Bodyguard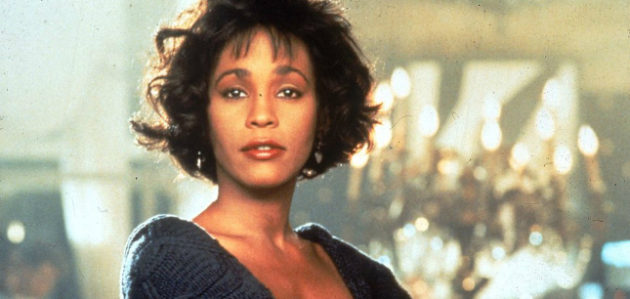 Despite having acted in only a handful of movies before her death on Saturday at the age of 48, Whitney Houston left a lasting legacy with the few film projects she did release during her reign as arguably the best-known female pop singer of her generation. 1995's Waiting to Exhale earned her a NAACP Image Award nomination, and 1996's The Preacher's Wife won her the award (and made her the highest-earning African American actress in Hollywood at the time); this year's Sparkle was set to be Houston's comeback after a well-documented and public period of substance abuse and personal decline. But no film is as indelibly linked to Houston's legacy as her debut in 1992's The Bodyguard, and the record-breaking soundtrack it spawned.

After Houston's debut album Whitney Houston and her sophomore effort Whitney made her a global, award-winning recording star, the singer selected her first foray into film, signing on to director Mick Jackson's romantic drama-thriller-musical The Bodyguard. Sure, she was nominated for a Razzie for her turn as Rachael Marron, an internationally renowned pop star/actress who falls for her stoic bodyguard (Kevin Costner) -- and critics widely panned the film, citing the cold chemistry between Houston and Costner and the fact that the character didn't seem much of a stretch for Houston. But The Bodyguard's heavy musical element, and the potency of its chart-topping soundtrack, went a long way in enhancing Houston's screen performance and turning it into something of a phenomenon.
Released in the fall of 1992, The Bodyguard went on to gross $410.9 million worldwide owing largely to Houston's popularity and the soundtrack to which she contributed six songs; buoyed by the Dolly Parton-penned powerhouse ballad cover "I Will Always Love You," its soundtrack became the bestselling soundtrack album of all time, and with good reason.
With "I Will Always Love You" Houston recorded a defining song of the decade, one that meshed her soulful chops, extraordinary voice, and the R&B-inflected mainstream appeal that had already made her a breakout star across genre lines. Where Parton's original version carried a sweet country lilt, Houston added power and a bombastic sense for drama that not only fit her character's storyline and explained the film's bittersweet ending, it also showcased her strengths as a singer and performer.
I always loved the way the song's opening lines wafted in over Rachael and Frank's farewell scene, beginning as Rachael's plaintive inner voice then swelling as she sings her feelings so urgently she has to stop the plane just to run out to give him one last smooch. Cut to some time later, as he's moved on to his next job and she's onstage performing "I Will Always Love You" -- thinking of him, we know, every time she performs it. Who can care that Houston and Costner's flirtation is stiff for the first half of the movie when you have a love ballad like this, roiling with bittersweet emotion, giving you closure and catharsis?
In addition to "I Will Always Love You," two other Bodyguard singles ("I'm Every Woman" and "Queen of the Night") peaked at number one on the U.S. Dance charts. But for my money the better songs on the album were "I Have Nothing" (which hit number one on the Adult Contemporary charts) and "Run to You," both original ballads that went on to nab Oscar nominations for Best Song. More importantly: as with "I Will Always Love You," it's in the familiar environs of the music videos for these singles where Houston's expressiveness as an actress really came alive.
The video for "I Will Always Love You" featured a fierce, confident Whitney in a power suit singing to an empty theater while looking far more comfortable emoting to her music than she did opposite her co-star; one could imagine she was Rachael Barron, years removed from her relationship with Frank Farmer, sitting with her memories while rehearsing for her latest tour. Similarly, the music video for "I Have Nothing" also allowed Houston to channel the character through her music. Placing Houston as Rachael in performance in a nightclub set, director Steve Barron (Teenage Mutant Ninja Turtles, Michael Jackson's "Billie Jean") evokes a rich atmosphere while drawing real nuance and emotion out of Houston in close-up, a performance of a performance, and probably the most glamorous and gorgeous of the soundtrack's videos.
"Run to You," meanwhile, featured Houston as Rachael in dreamy, heavenly white, declaring her love and longing so passionately that Frank, watching it on television late one night in the film, feels a flutter. If you had trouble buying Houston's character in the film, these supplemental videos gave her the chance to demonstrate a much more vivid inner life -- and everyone of a certain generation watched the hell out them back in the day.
Houston also contributed popular soundtrack singles to her later films, the Grammy-winning "Waiting to Exhale (Shoop Shoop)" from Waiting to Exhale and the Grammy-nominated "I Believe in You and Me" from The Preacher's Wife, but neither achieved the confluence of movie and music that drove The Bodyguard to its successes. Following 1997's musical telefilm Rodgers and Hammerstein's Cinderella (opposite Brandy), Houston's next film project was to be a remake of the 1976 R&B melodrama Sparkle, to star Houston and Aaliyah. Back on track and recast almost a decade later with Jordin Sparks playing the lead role, the musical was filmed last fall and will be released this summer, marking Houston's final screen performance.
Share your favorite Houston performances, scenes, or songs below.
Follow Jen Yamato on Twitter.
Follow Movieline on Twitter.