Watch: Whitney Houston Lends Tragic Power to Glossy Sparkle Trailer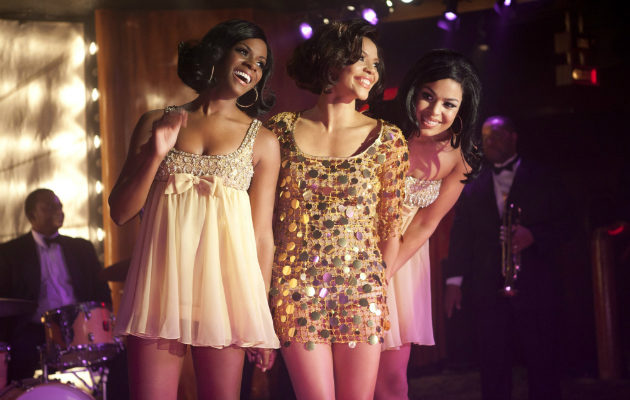 How much has Whitney Houston's tragic death propelled the musical remake of Sparkle into the spotlight? Consider: I'm 99% sure Matt Lauer has never seen "the 1976 movie called Sparkle," but even the Today Show did a segment on the first trailer for the August release, which prompted robo-Kathie Lee Gifford to exclaim "I was flooded with emotions as I watched it." See if you feel the same after watching Houston's churchgoing mother attempt to help her daughters navigate the pitfalls of fame, Dreamgirls-style.

Like 1976's Sparkle, which starred Irene Cara in the title role of Sparkle Williams, Lonette McKee as her sexpot sister, Sister, and Mary Alice as their quietly-suffering mother, the Salim Akil-directed remake follows the ups and downs of a Motown-era girl group as they deal with success, men, drugs, infighting, and assorted other drama. (If it sounds an awful lot like Dreamgirls, there's a reason: The film's success paved the way for and influenced the subsequent Broadway show, which follows a very similar story.) Following with its predecessor, we'll get new renditions of the songs Sparkle made famous, including the catchy "Hooked On Your Love" and "(Giving Him) Something He Can Feel," a song later remade memorably by En Vogue.
This summer's remake stars American Idol's Jordin Sparks as Sparkle, British actress-singer Carmen Ejogo as Sister, and Tika Sumpter as the third (and let's be real, more forgettable) sis Dolores, with assorted other familiar names filling in the cast: Cee-Lo Green as R&B star Black, Derek Luke as Sparkle's decent songwriter boyfriend Stix, Mike Epps as seedy gangster/woman abuser Satin. Houston plays the girls' mother in a role that seems considerably bumped up from the original, but while watching her aglow onscreen is mighty saddening, her storyline doesn't seem to overshadow the greater saga.
That said, the trailer makes no mention of the film's heavy drug subplot, which was always the part of Sparkle that made it hit home. Like 1972's Lady Sings the Blues, this backstage R&B musical had a gritty realness to it; it was melodramatic, sure, but you felt the desperation of these characters -- to make it at their first talent contest, to battle through petty jealousies, and later, to smile through the bruises -- in every gloriously dark moment. Sparkle's turn from mousy back-up singer to empowered starlet felt like a real transformation, but here Jordin Sparks looks all manicured and well-coiffed and put together from the start.
Inevitably, the specter of Houston's death looming over Sparkle will make its tragic themes resonate beyond what's onscreen, and her gospel number will top the charts. Kathie Lee will cry. As will I.
Verdict: As a Sparkle fan, I am hesitantly curious; as a Whitney fan, it's a no-brainer.