Hunger Games Hits DVD/Blu: Jacqueline Emerson Talks Foxface, Her Future, And Devo 2.0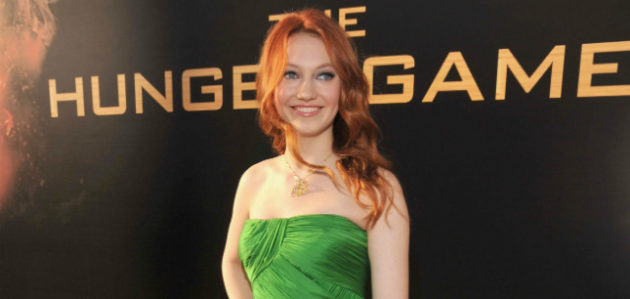 Before she was cast in Gary Ross's The Hunger Games as District 5's elusive Tribute — known only by the nickname "Foxface," per her wily dexterity and appearance — actress Jacqueline Emerson was a devoted fan of the YA series. Big time. "I was obsessed!" she told Movieline ahead of this week's Hunger Games DVD/Blu-ray release. "It was my new book series that I was in love with."
Upon getting the part (a connection to Ross's daughter put her in the director's sights), the high schooler had to keep her secret from friends and concerned teachers for months — and now, over a year and $684 million in Hunger Games box office receipts later, the one-time child rocker (Devo 2.0, anyone?) is looking to her next adventure with college and a Spike Lee project on the horizon.

Emerson, who deferred enrollment at Stanford University for a year to tend to her burgeoning career as an actress and musician, rang Movieline to discuss her Hunger Games experience, the challenges of playing Foxface — Katniss's most intelligent fellow Tribute, and therefore a dangerous, enigmatic rival — and her unique industry beginnings as a sixth-grade member of the Disney-backed Devo cover band Devo 2.0.
You loved the books, but you also happened to have a connection to Gary through his daughter. How did your casting as Foxface come about?
Claudia, who's Gary's daughter, told her dad that I'd read the books because we knew each other. So I came in and did an interview with Gary because he was interviewing kids who had read the book. A couple of weeks later he gave me a call and said, "Jackie, I really see you as Foxface – would you come in and audition?" And I absolutely flipped out. It's my favorite book series of all time! I would kill to be in the movie! I slept like four hours the night before, I was tossing and turning, I had a physics test the next day and I don't even remember it, and I went to my audition after school. I was hoping I did well but I wasn't really sure, but a week later I got a call from Gary and he talked to my mom and said, "We really want Jackie for the part, it's not set in stone but she should begin training." And I died. I was so excited. I immediately started training and working out and getting toned down. Let's keep in mind though that I found out about this in March, and I wasn't able to say anything until mid-May.
I don't know how you did it!
I had signed a ton of NDAs so I couldn't tell anybody anything, and my friends were getting really worried about me because I'd be missing school, and I was working out all the time. They couldn't figure out why because I'd never worked out before. I was losing weight and toning up and getting muscular, and they were all really worried about me – it was junior year and so it was very stressful, I had teachers who would call me into their office and be like, "Jackie, are you okay? Are you feeling alright?"
What would you tell them?
I would say, "Oh no, I'm fine. I'm just busy." I'd skate around it. Finally it was announced and I hadn't signed any contract yet so I wasn't even entirely sure it was going to be me. And I told a couple of my best-best friends because I needed a few people to help defend me from the rest of my friends [laughs] and everyone was so excited.
What was your initial audition like? Foxface is an unusual character in that she conveys so much with no known name and no dialogue, so your performance had to come through silently.
Yes. They had me come in and do a lot of reaction stuff — they'd map out a scenario for me and be like, "Okay, you stop here and look around and take it in and think about the complexity of it, but you're scared at the same time," but all with the face and without dialogue. It was a very unorthodox audition.
Did you always relate to Foxface when you read the books?
Oh yes, she was always one of my favorite characters. I was always intrigued by her.
Her intelligence is a great element to the character and to the book — she's a character who adds a lot of mystery to the proceedings during the Games.
I loved that. And I loved how you knew so little about her and yet Katniss was kind of scared of her in a way. She was one of the only people in the game that Katniss respected. There's a point where Katniss goes, "Maybe Foxface is the real enemy here." I thought that was interesting.
And amid all the bloodshed, Foxface manages to get far in the Games without harming people. She's only defeated by herself, by stealing Peeta's poisonous berries.
I think it's definitely one of those movies you want to see more than once. I liked it so much better the second time I saw it, and I liked it even better the third time I saw it. By the fourth time I was like, okay, I get it now. [Laughs] But it's got to many levels. You watch it again and pick up so many subtleties.
You've previewed the new Blu-ray releases. What's your favorite special feature?
For The Tribute Diaries, all of us got Flip cameras and in the couple of weeks leading up to the premiere we filmed all of us hanging out, the mall tours, and stuff like that so that's a cool insight into us hanging out. There's also a lot of the Tributes on set, which was really nostalgic for me to watch. It's like watching a documentary of my summer.
Your summer yearbook.
Exactly!
This cast grew pretty close, which happens with these huge franchises as young performers bond together on the shoot and press tour. Did you get any great advice from the older castmembers who are a few years ahead into their own careers?
Jen especially gave me really really great advice, and she was there for me when I was freaking out or nervous or confused. She was always really, really supportive, from the beginning – from the first day I met her. She was there to help me along, and I appreciated that so much. It was really wonderful to have that.
Your next film, Son of the South, is an indie with impressive folks behind the camera – Spike Lee is producing, and his frequent editor is directing. When do you start and how did you come to the project?
I'm very excited — I'm not sure when it shoots yet because I'm not sure it has full funding, but I'm just excited to be a part of this project because it's a really important story. It's the story of Bob Zellner, who's a civil rights activist, and I'm honored to be a part of it. It'll be really fun to bring to life.
Did you get to audition for Spike Lee or talk with him?
No, I didn't! I did an interview with the director and talked to him, and he sounds great. I can't wait to work with him.
You also have a parallel career as a musician, and you have a music video out. In addition to this, you were accepted to Stanford. So what's your plan for the next few years?
I'm taking a year off — it's interesting, because I've wanted to take a year off since 9th or 10th grade because high school's been very intense for me. I went to a very hard prep school, and I'm also not ready to leave my family yet and I'm kinda young for my grade. So this is great because it really gave me an excuse to take a year off and pursue what I love for a year in my artistic side, which, even though I'd done a ton of stuff in high school and I was part of drama and stuff like that, I didn't get to really pursue it. I recently signed with a new agent and I signed with managers a couple of months ago, so I'm really beginning this journey. It'll be a lot of fun.
I will say that I went to Berkeley, so I unfortunately can't fully support your choice of school.
[Laughs] You did? I'm supposed to hate you, but I can't! I'm so sorry!
I wish you luck at Stanford nonetheless! And finally, I must ask about one of your earliest credits in a band called Devo 2.0.
Oh my god, yes.
I'm so curious about it. Is it correct to describe it as a family-friendly Devo cover band made of kids?
Yes! It was wonderful! I had such a good time. I was in sixth grade, and it was the first audition I ever went on. We did a DVD, and a bunch of music videos, we did a two-week tour around the East Coast to different schools on a tour bus, and it was so much fun. We finished out with a performance at the House of Blues, and then it was kind of over. But I thought it was a great experience. My mom kept telling me the whole time, "You know, every journey has a beginning, a middle, and an end — and this is not the most important thing that you'll ever do." And I think that was probably the best advice that I could have gotten when I was in that, because otherwise I may have gotten too attached to it and too caught up in my two minutes of… fame. [Laughs] It was so happy to have my mom there because she really kept me grounded, and I had such a great time. It's a memory that I will always look back fondly on.
So you were basically a rock star in sixth grade.
I know, isn't it funny? I always forget about it because it was only for like a year, and then it was over. But it was a really great experience.
You played the keyboard but you also sang — does that make you the Mark Mothersbaugh or the Bob Casale of Devo 2.0?
I think I was the Jerry Casale. I don't really know — they changed all the parts around, but Jerry actually toured with us and we met Mark a couple of times.
What do you remember most about meeting or working with them?
Honestly… I do not remember. [Laughs] I was in sixth grade! All I know is I had a really good time.
Do Devo's lyrics have different meaning to you now that you're older?
Yes — completely. I definitely had a very skewed understanding of them when I was younger. Actually I have a theory that Devo 2.0 was made to prove the point of devolution, because their songs went from having a lot of meaning to, like, "It is a beautiful world!" That's the theory I've come up with in recent years. [Laughs]
The Hunger Games is on DVD and Blu-ray August 18 at 12:01 a.m.
Follow Jen Yamato on Twitter.
Follow Movieline on Twitter.