Hunger Games Blu-ray Hits In August; Watch A New Spoiler-iffic Trailer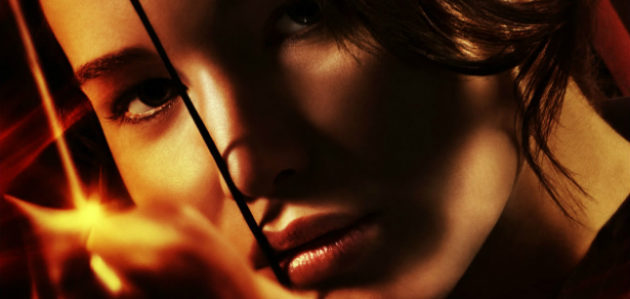 Now that there's no need to dance around spoilers (because everyone in the world saw it in theaters) we finally have an official Hunger Games trailer reel that includes the best scenes and plot turns of Katniss Everdeen's journey from District 12 huntress to The Girl on Fire. Revisit highlights from Lionsgate's mega-franchise adaptation with the Hunger Games Blu-ray trailer and see what's in store in the jam-packed bonus features on for the August 2-disc Blu-ray and DVD release.

Included in the three hours of bonus materials are an eight-part documentary on the making of the film, a sit-down chat with director Gary Ross, and the full Capitol propaganda film that appears within the movie. It would've been cool to see parts of the presentation and film Ross made to get the directing gig in the first place, but there are always future home video re-issues and special editions that more obscure materials could potentially find a home with.
Meanwhile, start your Hunger Games Blu-ray/DVD shopping plans now, as there will undoubtedly be Twilight-level activities surrounding the release at midnight on August 18. Full press release follows: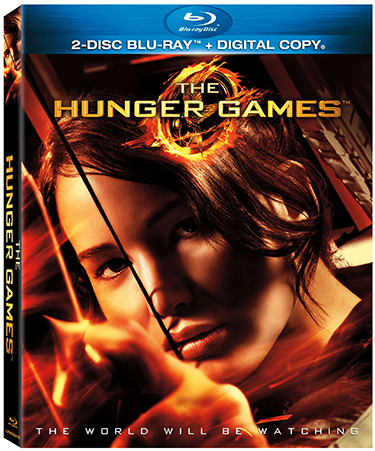 SANTA MONICA, CA, May 23, 2012 –Lionsgate's The Hunger Games juggernaut will arrive on home entertainment at 12:01 A.M. on Saturday, August 18, as the first film in Lionsgate's (NYSE: LGF) The Hunger Games franchise, which has already grossed nearly $400 million at the North American box office and is approaching $650 million at the worldwide box office, debuts on 2-disc DVD (plus digital copy), 2-disc Blu-Ray (plus digital copy), VOD and digital download with three hours of previously unavailable bonus materials in the biggest home entertainment launch in Lionsgate's history, the Company announced today.

The film, based on the New York Times best-selling novel from writer Suzanne Collins, achieved a remarkable four-week run as the #1 film at the North American theatrical box office where it has already grossed $392 million, ranking as the 14th highest-grossing film of all time, and it is approaching $650 million at the worldwide box office with an early June opening slated in China.

The 2-disc Blu-ray and 2-disc DVD arrive loaded with over three hours of extensive bonus materials including the comprehensive eight-part documentary, "The World is Watching: Making of The Hunger Games." Other special features include a sit-down conversation with director Gary Ross as well as numerous featurettes that examine the global success of the books, the creation of the control room in the film and the filmmakers' motivation behind creating new scenes that were not in the book plus much more. The Blu-ray Disc set contains an additional exclusive feature, "Preparing for the Games: A Director's Process," which looks at the progression of taking three key scenes from the book to the screen. The Hunger Games Blu-ray Disc and DVD is a must-have film that is hailed as "exciting and thought-provoking in a way few adventure dramas ever are" (New York Daily News). Fans will be able to pre-order the Blu-ray Disc and DVD, starting on Friday, May 25th, for $39.99 and $30.98, respectively.

"The motion picture event of the year is poised to become the home entertainment event of the year and, with a midnight launch and midnight retail events scheduled at stores around the country, we expect to replicate the same level of consumer excitement generated by the film's theatrical debut," said Ron Schwartz, Lionsgate Executive Vice President & General Manager, Home Entertainment. "This is far and away the biggest home entertainment launch in Lionsgate's history and, true to a theatrical marketing campaign that incorporated an unprecedented reliance on digital and traditional media alike, our home entertainment launch will involve a similarly innovative and integrated digital and packaged media rollout that we will unveil in the weeks ahead."

Directed by Academy Award® nominee Gary Ross (Seabiscuit), The Hunger Games, starring Academy Award® nominee Jennifer Lawrence (Winter's Bone), features an ensemble cast that includes Golden Globe® winner Donald Sutherland (Citizen X), Academy Award® nominee Stanley Tucci (The Lovely Bones), Academy Award® nominee Woody Harrelson (The People vs. Larry Flynt), Lenny Kravitz (Precious) and Emmy® nominee Elizabeth Banks (TV's "30 Rock"). The film also stars some of the industry's brightest up and coming actors such as Josh Hutcherson (The Kids Are All Right) and Liam Hemsworth (The Expendables 2).

The Hunger Games is the first in a trilogy of books published by Scholastic that has already become a literary phenomenon with over 36.5 million copies in circulation. Set in the future, one male and one female from each of the twelve districts of the nation is forced to participate in the annual competition called The Hunger Games, which is broadcast live throughout the country for the entertainment of the Capitol's wealthy residents. Sixteen year old Katniss Everdeen (Lawrence) volunteers in her younger sister's place to enter the games, and is forced to rely upon her sharp instincts as well as the mentorship of drunken former victor Haymitch Abernathy when she's pitted against highly-trained Tributes who have prepared for these Games their entire lives. If she's ever to return home to District 12, Katniss must make impossible choices in the arena that weigh survival against humanity and life against love.

BLU-RAY & DVD SPECIAL FEATURES*

"The World is Watching: Making of The Hunger Games" – an eight-part documentary covering the "making of" the film in all aspects from the pre-production process all the way through the theatrical release and fan reactions

"Game Maker: Suzanne Collins and The Hunger Games Phenomenon" featurette

"Letters from the Rose Garden" featurette – insights from Donald Sutherland on the development of his role as President Snow

"Controlling the Games" featurette – stories and concepts behind creating the control center

"A Conversation with Gary Ross and Elvis Mitchell"

Propaganda Film (in its entirety)

Marketing Archive

"Preparing for The Games: A Director's Process" (Blu-ray Exclusive)

* Subject to change
[via Lionsgate]