Kristen Stewart Moves Fast in New On the Road Trailer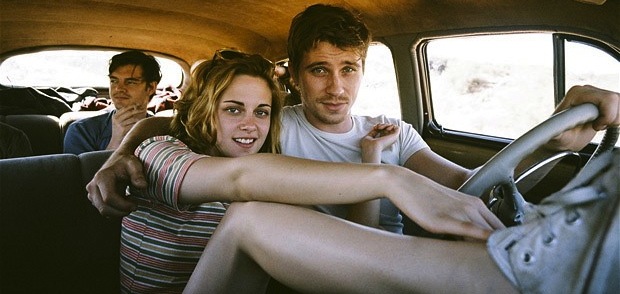 Kristen Stewart has been in the news a lot lately, but less so for her movies. But the latest international trailer for On the Road is out, so perhaps a small diversion is due. The film is the first real attempt to bring Jack Kerouac's legendary novel of the same title to screen, over 30 years after Francis Ford Coppola bought the rights to the book. Walter Salles directs the film, which had its world premiere at the Cannes Film Festival in May. On the Road stars Stewart, Garrett Hedlund, Kirsten Dunst and Sam Riley.

The film features Riley (ControL) as Sal, who falls under the spell of the intoxicatingly charming Dean Moriarty (Hedlund), who himself chases around America for freedom and an elusive "It." Standing in as surrogates for Kerouac and Beat poet Neal Cassady, respectively, Sal and Dean travel around the country indulging in drink, drugs, sex, fast driving and the whims of youth hellbent on not conforming to post-WWII America.
"I like pushing and watching a genuine experience on screen," Stewart said in Cannes. "The reason I wanted to do the job was to be provoked as much as possible and then to do it and take it further. We were just going forth, and as long as you're being honest there's nothing to be ashamed of."