Killing Them Softly Trailer: Playing with Violence & High Stakes Robbery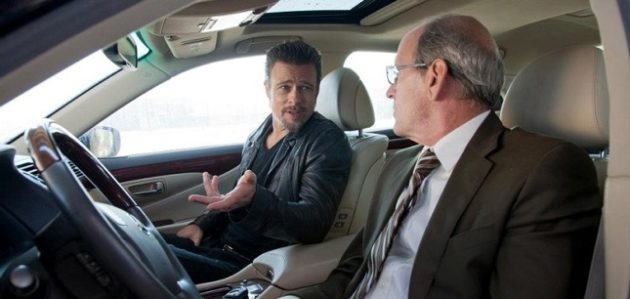 The film played to a mixture of reactions when it debuted at the Cannes Film Festival in May, and this latest film by Andrew Dominik, starring Brad Pitt, Scoot McNairy, Ben Mendelsohn, James Gandolfini and Ray Liotta packs a wallop of gun shots, fights and explosions. Harvey Weinstein recently suggested a violence summit might be in order to take place among Hollywood types in the wake of the tragedy in Aurora, CO. If so, this Weinstein Company release may be a good example of what he's talking about. But in Cannes, both Dominik and Pitt took exception to suggestions the film had "too much violence."

"I don't understand the obsession with violence," Dominik said. "It's like people who don't want to show children fairy tales. But fairy tales dramatize children's concerns and emotions." Added Pitt: "Violence is an accepted part of the gangster world. It's an accepted possibility when dealing in crime. I'd have a much harder problem playing a racist for instance than, say, shooting someone right in the face."
Pitt's character in Killing Them Softly is centered on self-interest. He doesn't particularly crave violence, but uses it as a means to an end. He's not bloodthirsty nor does he particularly find murder palatable, but he's willing to do it as painlessly as possible in order to get ahead. "It's a metaphor for business — it's cutthroat but has to be done," he said.
The trailer opens with a robbery pulled off during a mob-packed back room card game. The trailer continues with intermittent moments of Pitt's character, Jackie Cogan, meandering sveltely through hails of bullets and high-stakes banter.
Watch the trailer on YouTube.