Cannes: Brad Pitt Talks Killing Them Softly, Politics, Violence and Marriage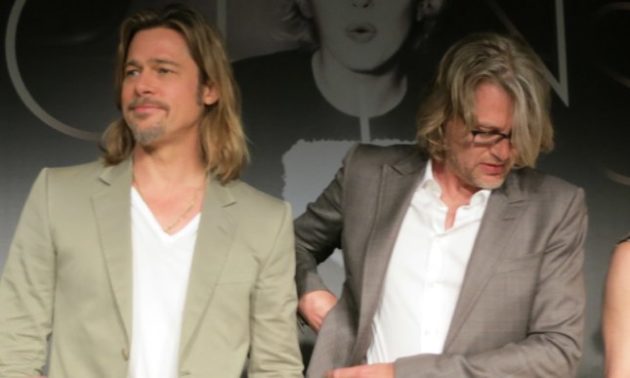 Politics lurched to the forefront Tuesday in Cannes as director Andrew Dominik's Killing Them Softly took its turn as the spotlighted world premiere here. But this isn't just any world premiere: This one featured Brad Pitt, who manages to still excite even some otherwise jaded festival attendees.

Mobs climbed over each other as the actor entered and exited the morning press conference for his new film about a group of criminals and mobsters vying for self-interest. One can only choose which bad guy to root for. Based on George V. Higgins' '70s-era novel Cogan's Trade, Dominik adapted the story, setting his mob-infused drama against the backdrop of the economic crisis and the election of President Obama in 2008.
"What I liked about the book was that it had great characters," said Dominik, who previously directed Pitt in The Assassination of Jesse James by the Coward Robert Ford in 2007. "But when I was adapting it, I realized it was a book about economic crisis. I always feel crime films are about capitalism. All the characters are motivated by money only, and I realized also that people in America are concerned about money - and people in Hollywood are motivated by that... I was."
Brad Pitt plays Cogan, a pragmatic hit man whose job is to whack armed robbers who held up a gambling session packed with mobsters. Frankie (Scoot McNairy) and Johnny (Vincent Curatola) pull off the heist in a dingy back room brimming with scowling gangsters. Though a messy job, they manage to take off with the loot, humiliating their otherwise intimidating victims.
"[While] reading this story, I realized it is a commentary on the times now, the foreclosure debacle and the economic crisis," said Pitt, who also serves as a producer on the film. "It wasn't until the end of the story that I saw it was in fact a microcosm of what's happening now as a [manifestation] of the macro world."
As with John Hillcoat's Lawless, which premiered here Saturday, the use of violence - and there certainly is a good amount of it in Killing Them Softly - became a momentary hot topic in the packed press conference with both Dominik and Pitt defending it as necessary and a reflection of society generally.
"I don't understand the obsession with violence," Dominik said. "It's like people who don't want to show children fairy tales. But fairy tales dramatize children's concerns and emotions." Added Pitt: "Violence is an accepted part of the gangster world. It's an accepted possibility when dealing in crime. I'd have a much harder problem playing a racist for instance than, say, shooting someone right in the face."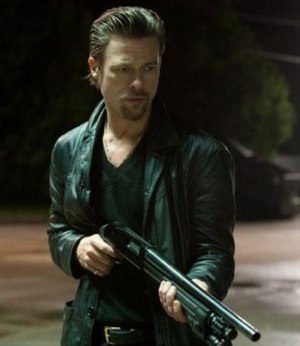 Continuing, Pitt related violence to everyday life and perhaps inadvertently ushered in 10 minutes of conversation about politics and even his personal life — some of which is bound to generate standalone headlines including rumors about his marriage, how he is likely to vote and even gay marriage.
"We live in such a violent world," he said. "I grew up hunting. If you have a hamburger... Have you seen how they butcher a cow? It's so violent, it's morbid. It's part of the everyday. So violence has a place in film. I don't see a world without it."
Pitt's character in the film, which drew early mixed reactions here today, is centered on self-interest. He doesn't particularly crave violence, but uses it as a means to an end. He's not bloodthirsty nor does he particularly find murder palatable, but he's willing to do it as painlessly as possible in order to get ahead. "It's a metaphor for business — it's cutthroat but has to be done," he said.
"I'd love someone to develop a documentary about what makes a Democrat or a Republican," Pitt added. "How do people vote against their own self-interest? I lean Democrat and to the left, but I am interested in how all people think."
At one point, the conversation meandered way off the Killing Them Softly script and the titillating subject of Pitt's pending marriage to Angelina Jolie came out. He said there is no truth to the rumors that they've set a date, but a wedding is in the future, but added, "I'm still hoping we'll figure out the marriage equality situation in the States before that happens." Pitt had said some years ago he and Jolie would marry once gays were allowed to be married. He also said they'd "love to do a movie together again sometime."
Despite the film's not-so-subtle metaphors about the economic crisis and President Obama's election, Dominik and Pitt said its planned Stateside rollout this September had nothing to do with the pending fall presidential campaign in the US. Pitt did, however, take a jab at the financial fallout that began in '08 — as well as those responsible: "The economic crisis was criminal, by the way, and there have been no repercussions from that criminality."
Read more of Movieline's Cannes 2012 coverage here.