WATCH: The Campaign's Will Ferrell, Zach Galifianakis, and Jay Roach Talk 'Bipartisan Bashing' (And Anthony Weiner)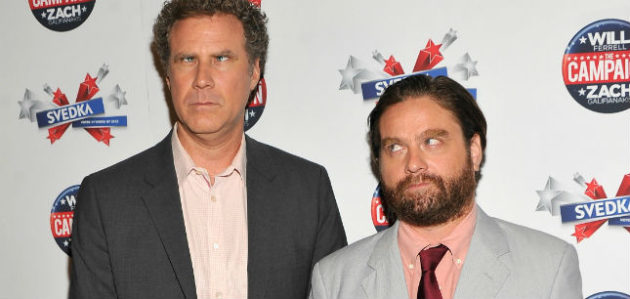 Will Ferrell and Zach Galifianakis face off as political rivals vying for the same Congressional seat in The Campaign — but should Democrats or Republicans be more worried about being skewered for laughs in the August 10 comedy?
Movieline pal Grace Randolph hit the star-studded NYC premiere with Beyond the Trailer for the scoop from candidates Ferrell and Galifianakis, catching up with a flurry of SNL alums, 30 Rock players, ABC News vet John Stossel and Jon Hamm to discuss the pressing issues of the day. Such as: Are babies good at improv?

And yes, Will Ferrell. Anthony Weiner would make a fantastic politician guest for Between Two Ferns, if only to see what Galifianakis would do with the poor guy. MAKE THAT HAPPEN NOW.
Rubbing elbows with The Campaign set, guests at the premiere party hosted by The Peggy Siegal Company swilled specialty cocktails courtesy of SVEDKA Vodka, who designed special red, white, and blue bottles to match the patriotic theme.
The Campaign hits theaters August 10.
Follow Movieline on Twitter.