Trailer for RZA's Man With the Iron Fists: Everybody Is Kung Fu Fighting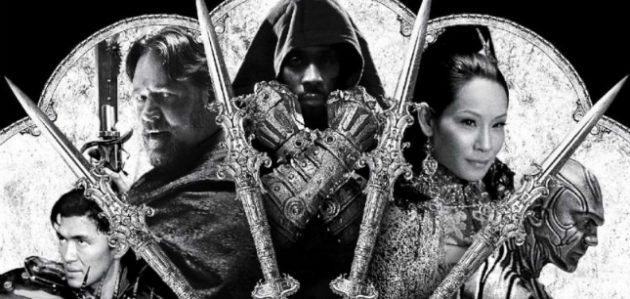 It looks like Wu-Tang Clan's RZA has learned well from his masters — they being the Hong Kong grindhouse filmmakers of yesteryear whose slicing, dicing martial arts exports clearly influenced more than just the rapper-actor's musical side, not to mention the reigning icon of modern exploitation cinema culture, Quentin Tarantino. Watch Russell Crowe, Lucy Liu, Pam Grier, Jamie Chung, and RZA himself chop, stab, kick, and fight their way through the bloody first redband trailer for The Man with the Iron Fists!

RZA stars in the film as the eponymous man with the iron fists, a small-town blacksmith in feudal China (the kind of fantasy "feudal China" where RZA can play a local and everyone speaks English) who jumps into action in defense of his village, though the trailer smartly glosses over anything resembling a plot and cuts right to the selling point: This cast, equipped with a plethora of weapons, fighting each other as if in a gloriously lush contemporary Shaw Brothers flick.
In addition to earning a "Presented by Quentin Tarantino" credit, RZA's kung fu actioner is co-written by Eli Roth, who also produced. But QT and Roth aren't the only veterans RZA surrounded himself with for his feature directing debut: He's got Corey Yuen onboard as fight choreographer and Chi Ying Chan (Detective Dee and the Mystery of the Phantom Flame) as DP, along with a host of supporting cast members plucked from the worlds of action and Chinese film, including Dave Bautista, Cung Le, Daniel Wu, Rick Yune, and Gordon Liu.
CG blood squibs too-frequently come off as a silly workaround, so it'll remain to be seen just how these fight sequences play within the film. But the glimpses we see here promise inventive framing and action choreography, not to mention some painful-looking bladed weapons and a studied eye for the genre.
Verdict: Where can I sign up for Lucy Liu's school of killing for girls?? O-Ren Ishii lives on!
Synopsis:
Quentin Tarantino presents The Man With the Iron Fists, an action-adventure inspired by kung-fu classics as interpreted by his longtime collaborators RZA and Eli Roth. Making his debut as a big-screen director and leading man, RZA—alongside a stellar international cast led by Russell Crowe and Lucy Liu—tells the epic story of warriors, assassins and a lone outsider hero in nineteenth-century China who must unite to destroy the clan traitor who would destroy them all.

Since his arrival in China's Jungle Village, the town's blacksmith (RZA) has been forced by radical tribal factions to create elaborate tools of destruction. When the clans' brewing war boils over, the stranger channels an ancient energy to transform himself into a human weapon. As he fights alongside iconic heroes and against soulless villains, one man must harness this power to become savior of his adopted people.

Blending astonishing martial-arts sequences from some of the masters of this world with the signature vision he brings as the leader of the Wu-Tang Clan and as one of hip-hop's most dominant figures of the past two decades, RZA embarks upon his most ambitious, stylized and thrilling project to date.
On top of this, we've got the first few images from the film. This one's quite eye-popping, indeed.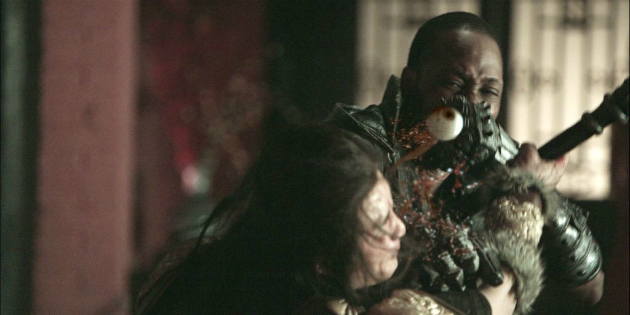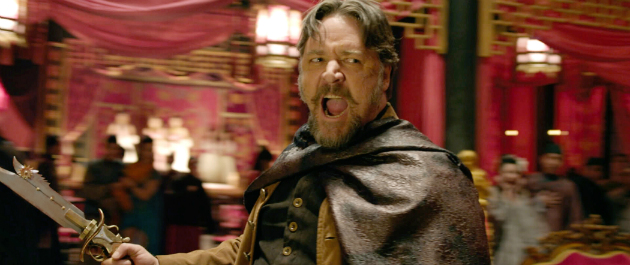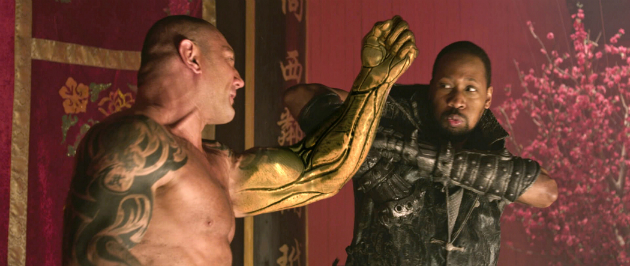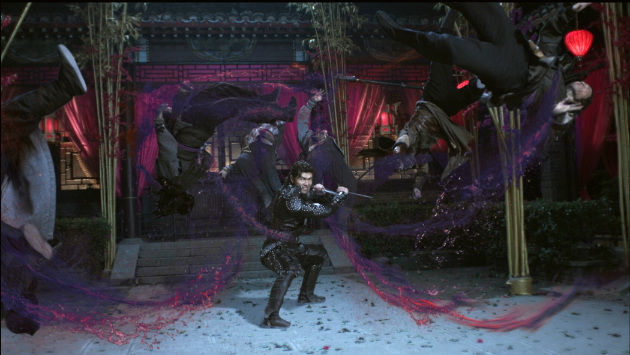 Oh, and have you seen the poster for Man with the Iron Fists? I can't not get excited about this.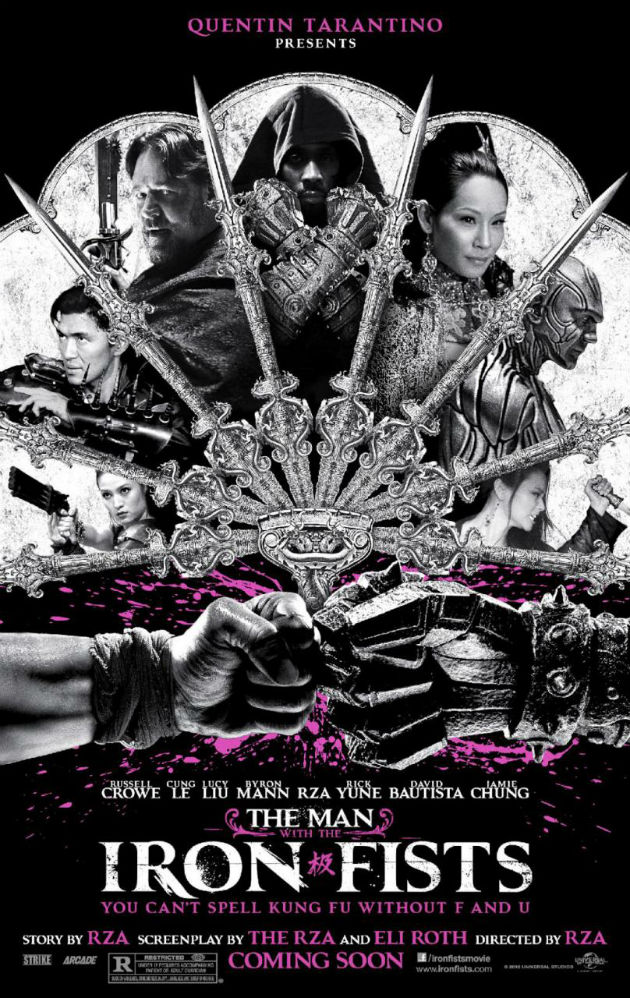 [Trailer debut at IGN]