TRAILER: On The Brilliant Potential of Taken 2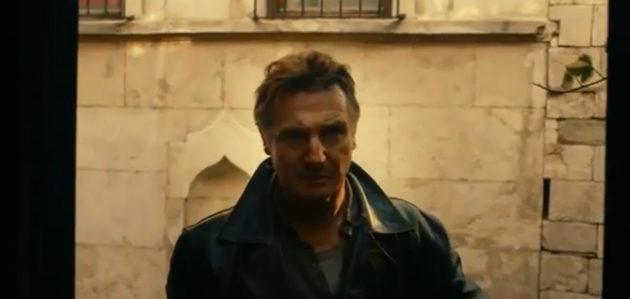 In 2008's B-movie hit Taken, Liam Neeson cracked skulls across Europe in search of his kidnapped daughter. In October's Taken 2, director Olivier Megaton and producer/co-writer Luc Besson set out to achieve something rare — An actual continuation of story! Multi-film character development! Unexpected moral examinations! — a proper sequel, in other words, as evidenced by the first trailer viewable after the jump.

The concept for Taken 2 was already promising on paper: The daughter Neeson saved in the first movie (Maggie Grace) must now help save her parents from the vengeance-seeking gangster father (Rade Šerbedžija) of the baddies Neeson murdered in his fatherly rage. The film's new trailer delivers on this front, demonstrating what few sequels or reboots or re-jiggered whatchamacalits these days bother to do properly: Expand on their predecessors in new and interesting ways.
Neeson's ex-operative Bryan Mills seems to be the same guy he was in Taken, but the plot turns his righteous actions in the first film on their head; another father out there is mourning, and wants bloody revenge. Who's to say Šerbedžija's paternal pain doesn't warrant its own reckoning? Is this a mindless action sequel or a meditation on the cycle of vengeance and a parent's drive to protect their children at any moral cost?
Meanwhile, Grace (whom Besson attempted to turn into an action star earlier this year in the Guy Pearce vehicle Lockout) has the opportunity to morph her victimized daughter character into a heroine. Look at the way she leaps over rooftops like a lady Jason Bourne! Turning Kim into an action hero not only makes up for how wimpy and naive she seemed (a perception magnified by my residual resentment of Grace's turn as the useless Shannon on LOST, I'll admit), it could turn Taken into a bona fide franchise instead of, as too many hit films become, a series of diminishing, direct-to-DVD quality returns featuring declining marquee actors/C-listers/WWE stars.
And we haven't even seen the fighting potential of ex-wife (and now-kidnap victim) Lenore, though the lethal potential of Famke Janssen's thighs is a historically documented cinematic fact.
Taken 2 is set for release on October 5. Let's hope it lives up to the potential. Thoughts?