Liam Neeson Taking His Particular Set of Skills to Airplane Actioner Non-Stop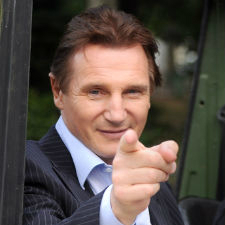 Ever since growling his way through 2008's gloriously B-movie-esque B-movie Taken, Liam Neeson's been enjoying his newfound status as the gruff hero with killer instincts and a particular set of skills that you want on your side in the event of a kidnapping/assassination attempt/jailbreak/wolf attack. So why fix something that ain't broke? Enter Non-Stop, Neeson's next actioner and an airplane-set excuse to see Neeson smash heads and deliver straightfaced epic one-liners.

Variety reports that Neeson, currently gracing screens reprising the role of Zeus in Wrath of the Titans, is in negotiations to lead the high concept action pic about "a worn-out air marshal who faces a threat while traveling on an international flight." Simple premise, high bone-crushing potential! We don't even need to know a single thing more about Non-Stop that what its title and setup tells us. We already know what Neeson can do with some tape and a handful of minibar bottles!
Neeson's upcoming slate features a crapton of action as is, even beyond Wrath; he co-stars in Peter Berg's Battleship this May and, as revealed recently, reprises his role of Ra's Al Ghul in Chris Nolan's The Dark Knight Rises in July. The recently-filmed Taken 2 is due in theaters this October, with a plot that sees Neeson's onscreen daughter Maggie Grace step up to save her now-kidnapped parents.
Non-Stop will be directed by Jeff Wadlow (Cry_Wolf, Never Back Down) from a spec script by John Richardson and Chris Roach, under superproducer Joel Silver. Fun fact: At 59, Neeson is already five years older than Harrison Ford was when he fought off evildoers thousands of feet above the ground in Air Force One, which also brings to mind the only two things that could make Non-Stop better -- A) if worn-out air marshal Neeson was also the President of the United States, and B) if his plane was carrying killer snakes. (Or Sam Jackson.)
[Variety]