Breaking Dawn Teaser Trailer: Bella Swan Is Fierce, At Last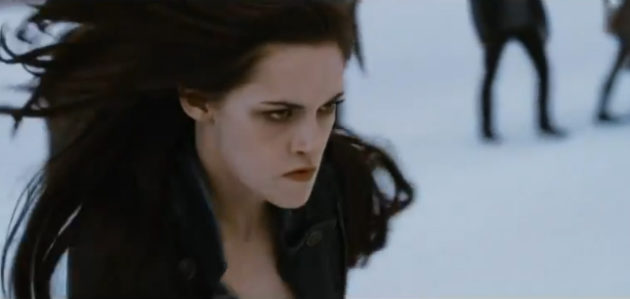 "After 18 years of being utterly ordinary, I finally found I could shine." Twilight's Bella Swan has gotten a lot of flack for her penchant for passive pouting and agonizing over boys, but in Breaking Dawn Part 2 she finally comes into her own, a fully fledged vampiress possessing newfound confidence and strength. Hey, having a monster baby will do incredible things to a girl. You know this. You watch Teen Mom. See Kristen Stewart come alive — so to speak — in the full teaser trailer.

Breaking Dawn Part 2 also benefits from a few new elements: the international political intrigue and menace of the Volturi who venture Stateside with baby Renesmee in their sights, and the X-Menesque super powers on display as Bella and Edward recruit sympathetic vamps to their side. Oh, and let us not forget Jacob and Renesmee and the love that dare not speak its name! (Imprinting.)
Synopsis:
The next and final chapter in THE TWILIGHT SAGA, THE TWILIGHT SAGA: BREAKING DAWN - PART 2 will arrive in theatres on November 16, 2012. Academy Award® winner Bill Condon directed both the first and second part of the two-part finale starring Kristen Stewart, Robert Pattinson and Taylor Lautner. The film, based on the fourth novel in author Stephenie Meyer's "Twilight" series, was written by Melissa Rosenberg with Wyck Godfrey, Karen Rosenfelt and Stephenie Meyer producing.
The Twilight Saga: Breaking Dawn Part 2 hits theaters November 16.
Follow Jen Yamato on Twitter.
Follow Movieline on Twitter.