REVIEW: Seeking a Friend for the End of the World Falters With Forced Romance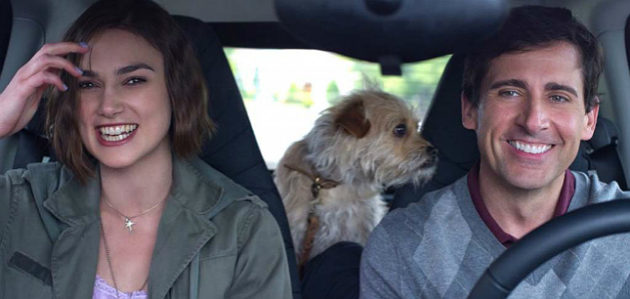 If the world were ending imminently — say, in three weeks — would you throw off the shackles of social confines and indulge in every crazy impulse the moment inspired? Would you seek out your loved ones in order to spend your last days in their company? Would you just stay put and continue on as normal right up until the final moment? Seeking a Friend for the End of the World, the directorial debut of Nick and Norah's Infinite Playlist writer Lorene Scafaria, combines a deviously tragicomic take on the approaching annihilation of mankind with a irritatingly unconvincing and unnecessary love story.

Until romance reluctantly but unavoidably creaks into the story (seeking a friend, my ass), the film starts off so well, exploring the most prosaic of upcoming apocalypses as seen through the eyes of Dodge (Steve Carell), a man whose life has been largely unexceptional and is now about to come to an end, along with most everyone else's. (One of the film's nice touches is an overheard radio broadcast about how the planet's best and brightest are being gathered into some kind of ark — a standard issue global cataclysm plot point never touched on again, because the characters in this film aren't exceptional enough to be plucked up.) At the outset beginning, he and his wife listen to a news announcement about how a last effort to stop a giant asteroid headed toward us has failed, and that impact was in an estimated 21 days. She looks at him, and then runs for the hills, never to be seen again.
For a while, Dodge keeps going into work at his insurance company, where his boss notes that the few remaining employees are allowed to dress like it's casual Friday every day, and wonders if anyone would like to take over as CFO. On the TV, there's news that air travel has ended and cell phones are no longer working. At a dinner party being thrown by Dodge's friends Warren (Rob Corddry) and Diane (Connie Britton), polite talk about what attendees plan to do with the rest of their time (one member suggests she's going to finally take that pottery class she's been meaning to) devolves into wild debauchery, getting the children drunk and someone arriving with hard drugs like you would a nice bottle of wine for the table.
"I regret my entire life," Dodge says, and seems ready to let that be the sentiment with which he waits out Armageddon, until he has a chance encounter with his neighbor Penny (Keira Knightley), a flaky, teary Brit who has just broken up with her boyfriend Owen (Adam Brody) and now mourns the fact that she has no way to make it back to England to see her family one last time. She also has a pile of his letters that were accidentally put in her box — three years worth — including one from his high school girlfriend saying he's the love of her life. Penny has a car and Dodge knows someone who has a plane, and the two make a deal to help each other get where they need to go.
Seeking a Friend for the End of the World is primarily a meander through random encounters on the road toward Dodge's old sweetheart, most of them wild-eyed but sweet — aside from a riot that springs up in Los-Angeles-barely-pretending-to-be-New-York, where the pair live, the film's world is good-hearted even when faced with impending doom. Whether encountering survivalists or the dedicated, giddy employees of a chain restaurant, everyone quivers with a delirious what-the-hell vibe that's melancholy and amusing.
Our obsession with the apocalypse is stronger than ever — it practically merits its own movie subsection, if its too scattered to be a genre. There's no reason why the end of the world shouldn't get the romantic comedy treatment, but the connection that springs up between Dodge and Penny feels awkward and forced. It's not just that Carell is 22 years older than Knightley, or that the process in which he falls in love with her consists of him staring puppy-dog like while she weeps on the phone to her family — it's that the idea of two people finding an unexpected connection to one another and offering up kindness in desperate times is actually much more touching than the insistence that they're last-minute soulmates.
Carell and Knightley have no spark of romantic chemistry between them — in fact, they actually clash in more interesting ways, with Dodge being a morose wet blanket and Penny coming across as a disaster who tends to allow major mistake to happen and then cry about them. The things they stumble onto — dinner in an abandoned house, a line of people headed to the beach — have a warm, wistful tangibility to them, in the way that you'd think the conscious gathering of last experiences would. Seeking a Friend for the End of the World's effusive declarations of love just seem like the stagey stuff of movies — they've got nothing on the moment in which Dodge lies on the carpet and listens the Walker Brothers' "The Sun Ain't Gonna Shine (Anymore)" on vinyl while he waits for the earth to be destroyed.
Follow Alison Willmore on Twitter.
Follow Movieline on Twitter.