6 Dos and Don'ts for Steve Carell's Post-Office Career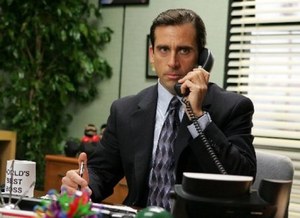 Thursday night on The Office, Steve Carell's Michael Scott proposed to his girlfriend Holly (Amy Ryan) and informed his co-workers that he is moving to Colorado. This makes us all sad -- we love Michael Scott, and we love Steve Carell! And while Carell has what should be a long and illustrious movie career ahead of him, we've seen sure things go off the rails plenty of times before. As such, Movieline offers these instructive lessons from watching those small-screen stars who've gone big-screen before him.
DO... eventually return to The Office in a guest role
Viewers like this! Don Knotts, fearing that The Andy Griffith Show was ending its run, signed a lucrative contract with Universal for a multi-picture deal. This never prevented Knotts from returning to the show as Barney Fife several times -- even winning himself two additional Emmy awards for his trouble. George Clooney, after becoming one of the biggest stars in the world, returned to ER as Doug Ross twice after departing -- once for Julianna Margulies' final episode as a cast member and once for a farewell episode in the final season. Granted, film success helps this look "gracious" as opposed to "sad."
DON'T... star in any movies about scheming kids
You know, looking back, Ted Danson had a nice little film career going before he left Cheers. Three Men and a Baby and its sequel, some critical acclaim alongside Jack Lemmon in Dad and starring opposite Howie Mandel in Blake Edwards's A Fine Mess (yes, that last one is a stretch). But what was Danson's first post Cheers film project? The Macaulay Culkin father-son-blackmail heist movie Getting Even With Dad. Danson was soon back on television starring opposite his wife, Mary Steenburgen, in Ink.
DON'T... become full of yourself
OK, I know what you're thinking: "Oh, puh-leeze, Steve Carell is regarded as one of the nicest guys in Hollywood." He is! But that doesn't mean that the cautionary tale of David Caruso is still not warranted. In all of Carell's successful movies, he's wisely surrounded himself with very talented ensemble casts. Even with Carell's talent, he's not pulling off a Jade or Kiss of Death.
DO... grow a beard and win an Oscar
After Robin Williams's run on Mork & Mindy ended, he made some pretty wise decisions regarding his film career (The World According to Garp) and a couple of not-so-wise decisions (Club Paradise). But fairly miraculously, within five years of Mork ending, Williams was up for his first Oscar for portraying Adrian Cronauer in Good Morning, Vietnam -- eventually losing to Wall Street's Michael Douglas. He lost again, beardless, for Dead Poets Society. It wasn't until Williams grew a beard that he was taken seriously enough to actually win the Oscar for a supporting role in Good Will Hunting. Carell has already gone the beard route once for a dramatic role -- the Academy Award-winning Little Miss Sunshine -- so there's a good chance that he already knows this trick.
DON'T... eventually sell yourself out to live action family films
Animated roles like Gru in Despicable Me... perfect! No problems there. And Eddie Murphy would have been fine if his foray into family films would have only stuck to animated roles like Donkey in the Shrek films after leaving Saturday Night Live. Unfortunately, once an edgy comedian crosses over to family films, he's never coming back. His comedy capital is spent.
DON'T... fancy yourself a singer
Bruce Willis could do it all! A television star in Moonlighting, a movie star with Die Hard... What possibly could be next? The Return of Bruno, that's what. On the one hand, Bruce Willis's album of R&B covers actually made it up to #14 on the Billboard album charts. On the other hand, Willis clearly wasn't anticipating the YouTube era: Here he is singing about Seagram Golden Wine Coolers, which gets cringe-worthy riiiiight about the time Bruno hits the "MY MY MY MY" portion of the song.
Follow Mike Ryan on Twitter
Follow Movieline on Twitter