SIFF: Emile Hirsch on Killer Joe Pressure and David Gordon Green's Secret Movie Prince Avalanche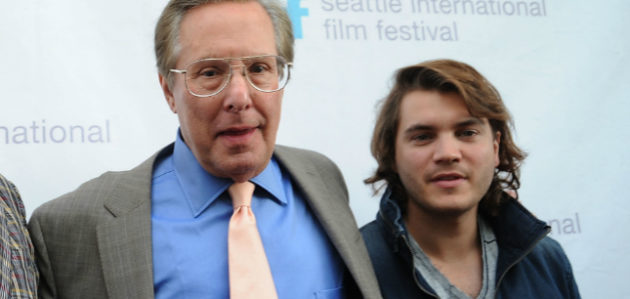 At the Seattle International Film Festival over the weekend to fete director and Lifetime Achievement honoree William Friedkin and present their NC-17 Southern-fried potboiler Killer Joe, actor Emile Hirsch spoke with Movieline about the "secret" movie he'd just shot with David Gordon Green (Prince Avalanche, also starring Paul Rudd) and the experience of being on a Friedkin set, where the pressure to deliver on a tight schedule was palpable. "If you messed up your lines or something, Billy would make you pay a little bit," Hirsch said. "You really didn't want to mess up at all."

Hirsch's Killer Joe character already suffers his share of punishment in the brutal black comedy, adapted from the play by Tracy Letts (Bug); he plays Chris, a trailer park-dwelling drug dealer who enlists a cold-blooded cop (Matthew McConaughey) to kill his mother. Things go awry, to say the least, drawing the entire morally-corrupt family (Thomas Haden Church, Gina Gershon, Juno Temple) into the fray, with violent consequences.
"On set it was a high wire act," Hirsch said, introducing Friedkin's tribute event at the Seattle Film Festival. "He would be totally supportive of the actors to give the best performance that they could, but he let you know that you weren't just playing with free time. You were here to shoot a movie very quickly and do the very best you could; he didn't want you to give a great take on the tenth take when you sort of felt like it, he wanted you to give 'the take' the first time out. He would constantly remind you, 'This ain't a play, mo.'"
Friedkin's reputation preceded him before Hirsh went to meet for Killer Joe, the director's latest feature following 2007's Bug. "The chance to get to work with him was sort of intimidating, because you don't really know what to expect," recalled Hirsch to Movieline. "A lot of these legends are like, is this guy a legend for his movies or is he just some crazy maniac axe-murderer? But what he lived up to was the energy; he's a combination of a tornado of energy but also this really specific intellect. He has so many stories and such insight, and is really quick on his feet and spontaneous and in the moment. He's a really interesting mix of elements."
That's not to say Friedkin wasn't demanding, especially when it came to Hirsch's more punishing scenes. His character is beaten by goons and bashed with canned goods — Killer Joe has a way with perverting even the most familiar of comfort foods — and Friedkin relished in pouring on the fake blood. "My character definitely has a bad week," Hirsch laughed. "I think I felt the pressure in the sense that he doesn't like to do a lot of takes, so there would be one or two takes that you'd know you would have and you wouldn't want to blow your lines or not give your best performance. He would light that fire under you and there would be pressure, and you knew that if you fell off the high wire act, there wasn't a net underneath — it kind of hurts, you definitely don't want to fall."
Hirsch also discussed Prince Avalanche, the David Gordon Green-directed indie filmed under the radar last month near Austin, Texas. A remake of the Icelandic comedy Either Way, about two men on a road-striping crew, the film stars Hirsch and Paul Rudd and, as Hirsch told Movieline, his involvement sprang from another ill-fated project he and Green once hoped to make. "Prince Avalanche — I didn't actually realize it was a secret movie, I just thought we were making a really small movie that no one knew about. David had called me and I'd been wanting to work with him for years; we almost made a movie called Goat a while back. And it's this kind of crazy, awesome cool script we shot with Paul."
Hirsch kept details under wraps, though he had this to say about the remake: "[Hirsch's character] is kind of an interesting dude. It's very similar to the original in a certain sense. It's set outside Austin, in Texas. It'll be an interesting mix of some real pathos mixed with some comedy."
Stay tuned for more with SIFF honorees William Friedkin and Sissy Spacek.
Follow Jen Yamato on Twitter.
Follow Movieline on Twitter.