What's the Biggest Unanswered Question Raised By Ridley Scott's Prometheus?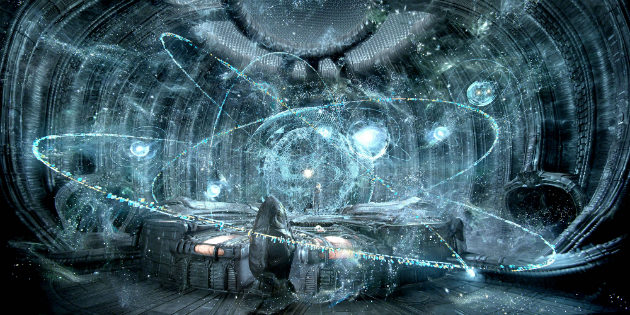 Ridley Scott's Prometheus opens stateside today, which means no more tiptoeing around spoilers for those who've seen it. (Obviously, spoilers will follow. You've been warned.) The number one complaint among folks who have now seen the highly anticipated Alien kinda-prequel? So. Many. Unanswered. Questions. So let's jump right into the spoiler goo and get to deciding (and, hopefully, answering) the biggest question prompted by Scott's gorgeous, murky space opus that is left yet unanswered.

I'll start:
WHY?
Why does pretty much anyone in Prometheus make any of the decisions they make? Like...
- Holloway (Logan Marshall-Green) with the helmet-taking off. Really, is sniffing (and contaminating) the alien world atmosphere on the planet you just landed on and know nothing about such a good idea?
- Vickers (Charlize Theron), running in the one direction that will lead her to being squashed by a giant falling spaceship?
- Millburn the dumb biologist (Rafe Spall), who just wants to reach out and make friends -- even with the squishy alien penis-snakes?
- Space crew guy, walking straight up to his recently deceased, re-animated fellow shipmate who has spider-crawled his way across a space desert to space-murder everyone?
Most of these aren't necessarily unanswered questions, just incredibly stupid decisions that inform and support the characters in facepalm-worthy strokes. Holloway is a risk-taker! Vickers is a sheltered, prideful ice queen with probably little field experience who would rather try to outrun death than roll, like her unassuming and practical brunette counterpart, out of its way! Crew guy is, well, a redshirt, for lack of a better term. Yes, yes. There are reasons to be found here, if not particularly great ones.
The bigger questions have to do with two still-opaque entities: The Engineers and David, the increasingly creepy mayhem bot, Lawrence of Robotica.
In the prologue we see one Engineer take a dose of black space goo and tumble, dead and transmorphing, into the water -- thus presumably starting human life on Earth. So what is the goo? Prometheus builds a tech-driven world filled with great flying ships and alien holograms and C-section machines but is more concerned with ideas: Of creators and creation, of life and death cycling endlessly across the universe between humans and aliens, parents and offspring, scientists and their inventions. All children want to see their parents dead, according to David, who seems to be counting himself in that equation.
What is the goo, then? Is it the proto-material of a xenomorph? How does it work, exactly? Why would anyone feed it to the cute Tom Hardy-looking guy? And who created the Engineers, anyway? Does it even matter when the real question is asking why we create, and in the process, destroy?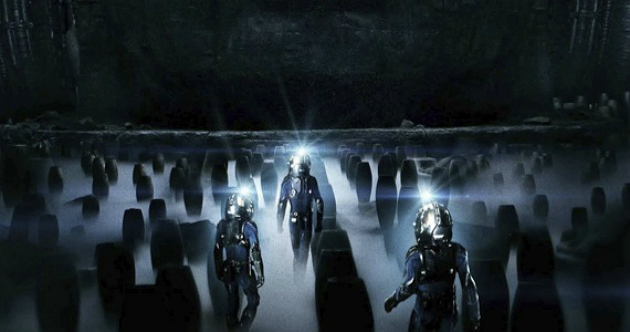 The brilliance of Prometheus's stubborn insistence on not feeding us the answers is that they're not really important in the grand scheme of things, unless you require your movies to make sense. You know what else refuses to share vital information, instead choosing to provoke and see what happens? David. David, who has spent years in space flight amassing the breadth of human knowledge and yet cannot feel (or can he?), who has the answers -- or, at least, the instructions the Engineers have written in their mystery language on the sides of their sweaty weapons of mass destruction like how-to manuals -- and yet can't understand why it is that Noomi Rapace's Elizabeth Shaw MUST understand.
David, played marvelously by Michael Fassbender, remains the biggest mystery. He's tasked with one directive: Help Weyland find a way to live forever. You could build a strong case that everything David does is indeed in service of this goal. Weyland's mistake is in trusting a machine that doesn't think in human terms, but in practical ones; if there's no alien magic out there to Benjamin Button old man Weyland back into handsome, young Guy Pearce, David finds another way to help his master live forever: Through his legacy, by altering the course of human history (gladly, it seems) via one or two devious deceptions.
Consider the legacy of the man at the center of David's favorite film, as seen in Prometheus's sublime opening sequence. T.E. Lawrence was born in 1888, helped upset order in the Arab world in 1916, was immortalized on celluloid in 1962's Lawrence of Arabia, and then, years later in the world of Prometheus, inspired an android to not only imitate his blond coif but instigate the beginnings of the Alien universe in 2093. Lawrence is really the key to understanding David; in helping Weyland achieve his immortality by way of launching the destruction of humanity, David is immortalizing himself, and a part of me thinks that a part of him yearns to express this measure of often foolhardy human emotion. Or maybe he's just designed to be a close, but not close enough, imitation of the humans who built him?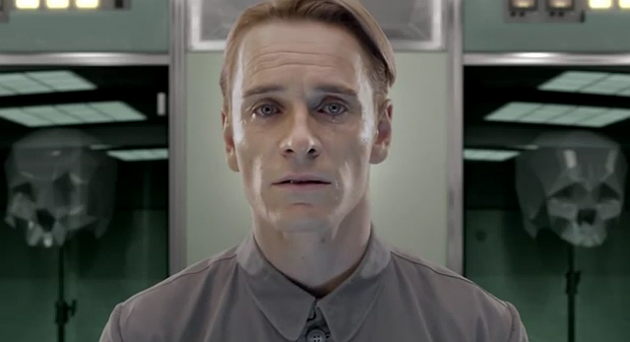 The more I think of David as a stand-in for Prometheus the movie at large, the less I care that Idris Elba figured out in five minutes what the Engineers were up to on this rinky dink planet, or that we'll never know what David whispered to the last remaining Engineer, a la ScarJo and Bill Murray in Lost in Translation. Those quibbles seem minor given the vast provocations the film leaves behind.
To an aggravatingly obvious extent, the gaping abyss of understanding that Prometheus leaves puts us, the viewer, in the position of Shaw -- still searching, desperately, for answers, with only a soulless computer brain as her guide. We are Shaw, and maybe the internet is our David, offering knowledge and spoilers at our fingertips but, unless Ridley Scott and writers Jon Spaihts and Damon Lindelof hop on a Reddit AMA session, no ready answers and plenty to be wary of. Big things come in small packages, and that goes for space goo, blond robots, and universe-expanding ideas.
So, all that said, what unsolved mysteries irked you the most in Prometheus? Sound off in the spoiler-friendly comments below and let's figure this sucker out.
--
Our colleagues at (PMC-owned) Beyond the Trailer pose a relevant question: "Is Prometheus an intellectual sci-fi thriller, or a pseudo-intellectual sci-fi thriller?" See what other real folks say in their impromptu exit poll.
Follow Jen Yamato on Twitter.
Follow Movieline on Twitter.