Idris Elba Suits Up in First Image from Guillermo Del Toro's Pacific Rim
Total Film has the first look at Idris Elba in Guillermo del Toro's alien invasion flick Pacific Rim, for which he built -- and destroyed -- replica sets, kaiju style. Elba stars alongside Charlie Hunnam, Ron Perlman, Charlie Day and Rinko Kikuchi in the mecha-epic, which pits robot-piloting humans in battle against interplanetary monsters.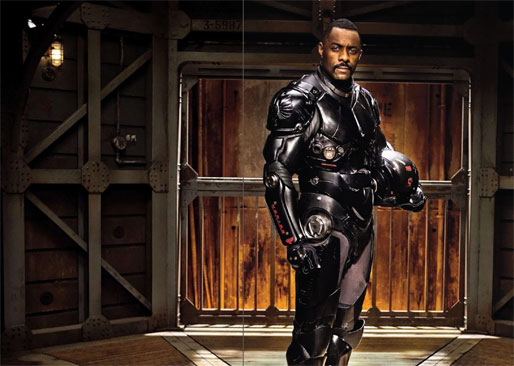 In the magazine's latest issue, Del Toro spills about the process of destroying entire city blocks and rigging robot hydraulic rigs on the set:
When we're talking about the physicality of the fight, we ended up building several blocks of Hong Kong. And literally demolished them. We built a building and then we took down the buildings.

We built command centres of the robots that were the size of the house. We started them on hydraulic rigs that shoot and elevated them and moved them round so you could really get a sense of the physical nature driving a robot like this.
"The thing I love most in the world is monsters, and we are creating great monsters," del Toro told Movieline last year, when he was just starting on the film. Pacific Rim is set for release on July 13, 2013.
[Total Film via Moviehole]