Guillermo del Toro and Katie Holmes on R-rated Children's Horror Flick Don't Be Afraid of the Dark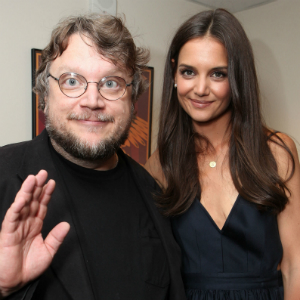 When Guillermo del Toro (Hellboy, Pan's Labyrinth) set out to update the scariest movie he'd ever seen as a child -- the 1973 made-for-television movie Don't Be Afraid of the Dark, about inhabitants of a house who discover sinister creatures living in the basement -- he intended to frighten and thrill a new generation of youngsters. Even co-star Katie Holmes, who makes a rare genre appearance in the Del Toro-produced and co-scripted horror pic, found the script to so terrifying that she knew she had to do it. But is Don't Be Afraid of the Dark, as the MPAA deemed, too scary for kids?
With a few deviations from the original, Don't Be Afraid of the Dark follows Sally Hirst (11-year-old Verge designee Bailee Madison), a young girl who comes to live with her architect father (Guy Pearce) and his new girlfriend Kim (Holmes) in the Gothic mansion they're remodeling. But the historic home has a secret: Tiny creatures live in the basement, calling to Sally to come free them. What results is indeed the stuff of nightmares, the kind of frights that would keep most youngsters up at night, clutching the sheets in wondrous terror. And even with newcomer Troy Nixey in the director's chair, Del Toro's stamp is palpable throughout the film.
Movieline sat down with Del Toro and Holmes after the film's Los Angeles Film Fest debut to discuss Don't Be Afraid of the Dark (as well as Del Toro's defunct At the Mountains of Madness and upcoming Pacific Rim), the impact of the MPAA's surprise R-rating, impressive young star Bailee Madison, and the key relationship between Holmes and Madison that anchors the film and makes the audience care about what happens when the hungry little "homunculi" come calling.
Guillermo, you were inspired by some of the scary movies you saw as a child that you loved and were frightened by, and this was originally intended to evoke that kind of experience. How does the rating going from a PG-13 to an R change the intent of this film?
Del Toro: Well I think it changes it a lot. I find it understandable, from the MPAA, to give us an R -- I'm not questioning that. But it changes the movie because this is the perfect movie for a PG-13 audience, in the sense that it was really made thinking about it as a movie for a younger audience. You know, it's not a movie that when we created it we wanted it to be an R. So it does affect it, in that sense. But I think it is what it is, and I remember being a kid, you found your ways to see the movies you wanted to see. The world is a very big place, you know?
Katie, what were you looking for in terms of roles and projects at the point in your career when you took this on, and has your decision-making process changed much over the last few years?
Holmes: I was really excited when I read this; first of all, I've always been a huge fan of Guillermo's and I was really excited to read this. I was terrified when I read it and I thought, 'Well this is a really good sign!' And I loved the fact that the characters could stand on their own without the creatures, meaning their storyline worked, they were real characters, and their actions were borne out of their own emotional motivations. That was important because then you're servicing the characters as opposed to the genre, and the audience can relate and be more scared. I really liked the strength that Kim had. She was honest. At the beginning she's like, 'OK, I'm going to play this game of being the woman in this girl's life, but I'm not really going to, I don't really want that.' Then she says, 'I don't want to be a mom, this is too much,' and then gets to the point where she listens to Sally and strikes a friendship and a companionship, and ultimately she becomes a mother figure. I thought that was really special and honest and real and something that people can relate to.
Being a mother yourself, did you feel any sort of maternal instinct that clicked with the character?
Holmes: Definitely. I mean, for me a whole new understanding came to be when I became a mother that I didn't have before. The 'you would do anything for that person' feeling, that strength -- I didn't understand that before, and that is what I did understand now and what I could bring to this character, and what was important to me for this role, because I thought that it needed that and so did Guillermo.
How old do you think you'll wait for your daughter to be until you show her Don't Be Afraid of the Dark?
Holmes: [Laughs] With every interview, it gets older!
Del Toro: 85!
That sounds like a safe enough number. Now, Troy Nixey was the director but you, Guillermo, were very present on set and in filming. How did you all work together in the filming process?
Del Toro: We had a pretty seamless [process] where we were all discussing stuff from the get go. We had table readings where these guys were very, very frank about this is what we need. And the great thing is they had one of the writers there, which was me, so I made the changes immediately. They were very involved in choosing their wardrobe or choosing their props, things like that. The day-to-day, I was there as a resource if they needed me. Sometimes they would ask me for, whether it was just a point of view or a practical thing, can we delay my scene or pull it off or 'I don't think I'm prepared,' so from my side it was pretty seamless.
Bailee Madison described the way you helped her get emotionally ready before scenes, then would signal Troy to start filming.
Del Toro: Yes -- well, you know, I knew a few tricks. But she's a monster! I wish I could take any credit, but the thing with Bailee is you just need to protect her from any of us thinking we can do a much better job than her, in directing herself. I think that's true with a great child actor. Like the girl in Pan's Labyrinth, I can tell you exactly when I was involved and exactly when I was not involved, and she was also self-calibrating. People think that a great actors' director is a guy that comes in every time and gives you an insight... it's the guy that knows when to stay the fuck out of there if he's not needed, and directors make the mistake of thinking that after every take they need to go in and really have an Elia Kazan moment with their actor. It's about stay the fuck away until they need you, you know? And that's it. I think Bailee as a child actor is like that.
Would you agree, Katie?
Holmes: Definitely -- and I think like anything actors have to know when to listen, and when to pretend they're listening. [Laughs] It was a real pleasure to work with Bailee, she's so professional and kind. But she's so dedicated to her work and this was intense work. It was very important that these emotional connections were there between the characters, that these bonds were happening, and she had a lot of heavy lifting to do. Her performance needed more than scares and yells and screams from the monsters, we had to really believe her pain and be with her. Right away, just the way she looked at you, we were like, 'Oh, we got it -- done!' She's incredible. Her heart just comes through her eyes when you watch her.
Del Toro: But you know, let me say this -- everybody else, all of us to some point after the screenplay was there, all the rest of us are interchangeable. The reality is that Bailee and Katie, without them, the entire edifice collapses. Because in a strange way it's almost like a single character; Kim is the future of Sally or Sally is her past. In a way they are a single character, struggling, and without them the movie would collapse. We'd have another guy playing the caretaker or another guy playing this or that -- they are the moral, ethical, emotional center of the movie and there's no doubt in my mind that that's true. [Pause] And Bailee is also very good at pretending when she's listening.
Holmes: [Laughing] She really is!
Del Toro: There were moments when I saw Bailee and she was nodding, [affects high voice] 'Oh, thank you, that's very interesting,' and you were like, she's not gonna do it!
Guillermo, can you explain what happened with your At the Mountains of Madness project?
Del Toro: At the Mountains... it's tragic what happened to it. We were very close to it. We were doing the movie together, Tom [Cruise] and I, and we loved the screenplay passionately. I worked with Tom for a long, long time -- many, many months. We were very close in the partnership in creating it, and when it collapsed, it collapsed four days before we opened offices in Toronto. So it was a big surprise. But you know what? I think it's either going to happen one day in the right way, or I really think the worst thing that can happen to a movie like that is for it to get filmed the wrong way. There are two ways of preserving the greatness of a movie: Making it, or not making it. But what you cannot do is make it the wrong way because you needed to make it, that's silly.
And speaking of making things the right way -- you seem to be having a lot of fun with Pacific Rim.
Del Toro: [Laughs] Yes, I am! It's almost too much fun. The thing I love most in the world is monsters, and we are creating great monsters. We are literally in the paradise field, the Elysium field, of monsters right now. And we've barely started. We have still many months to create the monsters and we're making sure we create and deliver the finest monsters fit to be created onscreen.
Don't Be Afraid of the Dark is in theaters Friday and is rated R for violence and terror.