Cannes: Mid-Way, Haneke's Amour Charges Ahead With Palme d'Or Momentum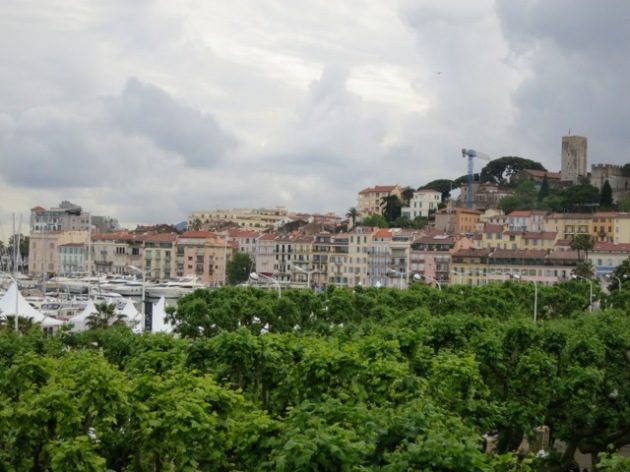 As Cannes hits the half-way mark Monday night with the world premiere of Iranian director Abbas Kiarostami's Like Someone in Love, momentum for the coveted top prize, the Palme d'Or, appears — for now — to be with German-born director Michael Haneke's Amour (Love). Not to say there are not some strong fellow contenders, and the whims of any jury member may run counter, near or parallel to general opinion. But here are some of Palme d'Or's other big suitors at the mid-way point.

Wes Anderson's Moonrise Kingdom received mostly positive accolades by attendees, with one journalist commenting at the press conference on the opening day that "it was a surprisingly good opening film." Opening titles at Cannes (or other festivals for that matter) are often not the strongest of any lineup, or even in the top tier, though they usually offer up some kind of flash in the form of stars.
Jacques Audiard's Rust and Bone came out of the gate strong. Its early morning press screening concluded at the Lumière with rounds of applause and chatter among some attendees was that it's the director's best film — and his most accessible. But the film has its detractors, though any eventual Palme d'Or winner isn't without its critics.
Also among the big Official Selection competitors this year, Reality by Italian director Matteo Garrone passed muster. Garrone was hailed back in 2008 for the Naples mob feature Gomorrah, receiving the Cannes Grand Prix. His latest has not generated the same emotional responses of that film, but it has achieved sustained reaction. John Hillcoat's Prohibition-set Lawless has picked up boosters and detractors since its debut Saturday. Some fest-goers have praised the director's use of violence — it's raw and quick.
One of the many trade print editions here in Cannes declared that Danish director Thomas Vinterberg "is back" with his latest film, Jagten (The Hunt). He was a toast of Cannes back in 1998 for The Celebration, part of the Danish Dogme 95 movement he spearheaded along with fellow Dane filmmaker, Lars von Trier. Von Trier has gone on to attend many a Cannes, occasionally putting his foot in his mouth publicly (he awkwardly joked that he "understood Hitler" last year) but he consistently makes headlines worldwide.
Finally, this may be a bit of a long-shot, but hey, Cannes can be unpredictable. In 2010 Thai director Apichatpong Weerasethakul smashed through the establishment and grabbed the Palme d'Or for his film about, well... Uncle Boonmee recalling his past lives. So perhaps a bit of a wild card might be Ulrich Seidl's Paradies: Liebe (Paradise: Love). The premise goes something like this: Middle-agish European women travel to Africa seeking the affections of African boys. The movie is essentially about Euro-cougars who head down to Africa to get it on with young African men who earn a living satisfying their yearnings. The promo-material journalists received in their mailboxes at the Palais des Festivals is pretty straightforward: Plumpish naked women; lean, naked African 20-somethings... you get the picture.
Check out the clip below of Paradies and some of the other competition films that have screened so far, with accompanying official Cannes Film Festival descriptions:
Moonrise Kingdom:
Set on an island off the coast of New England in the summer of 1965, Moonrise Kingdom tells the story of two 12-year-olds who fall in love, make a secret pact, and run away together into the wilderness. As various authorities try to hunt them down, a violent storm is brewing off-shore — and the peaceful island community is turned upside down in every which way.
Amour
Georges and Anne are in their eighties. They are cultivated, retired music teachers. Their daughter, who is also a musician, lives abroad with her family. One day, Anne has an attack. The couple's bond of love is severely tested.
Rust and Bone (De Rouilles et D'Os)
Ali suddenly finds himself in charge of Sam, his 5-year-old son that he barely knows. Penniless and without friends, he leaves the north of France to seek shelter at his sister's in Antibes. Even though she and her husband do not have much money, they make a room for them in their garage and take care of Sam.
Ali finds work as a bouncer at a local nightclub. After diffusing a fight one evening, he meets Stephanie, a beautiful, self-confident woman. He takes her home and leaves her his number. But she is a princess and he is a poor fellow. Stephanie is a killer whale trainer at the local Marineland. After a terrible accident one day, Ali gets an unexpected phone call from Stephanie. When he sees her again she is crammed into a wheelchair. She has lost both her legs and her dreams. Ali will share genuine moments with her, without pity, and help her to live again...
Lawless
Lawless is the true story of the infamous Bondurant brothers, bootlegging siblings who made a run for the American Dream in Prohibition-era Virginia. In this epic gangster tale, inspired by true-life tales of author Matt Bondurant's family in his novel The Wettest County In The World, the loyalty of three brothers is put to the test against the backdrop of the nation's most notorious crime wave.
Jagten (The Hunt)
Following a tough divorce, 40-year-old Lucas has a new girlfriend, a new job and is in the process of reestablishing his relationship with his teenage son, Marcus. But things go awry. Not a lot. Just a passing remark. A random lie. And as the snow falls and the Christmas lights are lit, the lie spreads like an invisible virus. The shock and mistrust gets out of hand, and the small community suddenly finds itself in a collective state of hysteria, while Lucas fights a lonely fight for his life and dignity.
(In Danish)

Reality
Luciano is a Neapolitan fishmonger who supplements his modest income by pulling off little scams with his wife Maria. A likeable, entertaining guy, Luciano never misses an opportunity to perform for his customers and countless relatives. One day his family urge him to try out for Big Brother. In chasing this dream his perception of reality begins to change.
(In Italian)

Read more of Movieline's coverage from Cannes.