Cannes: Michael Haneke Debuts His Tough Masterpiece, Amour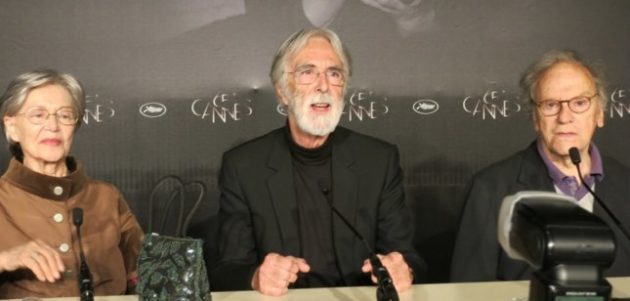 Storms and a windy chill in Cannes Sunday morning somehow fit well for the premiere of German-born director Michael Haneke's Amour (Love). Haneke's minimal but powerful story of an elderly Parisian couple who are suddenly faced with illness and life's sunset spurred rapturous applause following a mostly hushed pre-screening this morning ahead of the festival premiere tonight. Again, talk of Palme d'Or or other festival prizes swirled among attendees.

Haneke is certainly no stranger to awards in Cannes. He won the top prize just in 2009 for The White Ribbon as well as Best Director in 2005 for Caché (Hidden) and the Grand Prize of the Jury for The Piano Teacher back in 2001. Actors Jean-Louis Trintignant (The Conformist) and Emmanuelle Riva (Priest) sublimely portray the couple whose lives suddenly change after Riva's character, Anne, suffers an attack. She is left in a slowly deteriorating state of dementia and her husband takes on the burden of caring for her while their daughter, played by Isabella Huppert, feels shut out.
Mostly a theater actor in recent years, Trintignant was persuaded by Haneke to once again take to the screen for his first film since 1998's Those Who Love me Can Take the Train by Patrice Chéreau. "I didn't want to act in films; I prefer the theater. But Haneke offered me this great opportunity," he said — then clarified, "But I won't do it again." Trintignant, who was an early target of the paparazzi here back in the late '50s because of rumors he was having an affair with Brigitte Bardot, his co-star in …And God Created Woman, added, "It's a great joy to work with Michael Haneke. I've never met such a demanding director. He knows the cinema through and through."
Haneke will probably never be accused of being overly forthcoming when discussing his films. The heavy subject matter in Amour quite frankly will not appeal to everyone, but it's already being called a masterpiece. He did acknowledge, however, that the material is challenging. "I never write a film to show something. Once you reach a given age, you have to contend with the suffering of someone you love," Haneke said. "It's inevitable - in my family as well."
In telling this story of slow loss, Haneke made great effort to avoid heavy emotion, which might have been an easy method of audience seduction. With that backdrop, Riva said she became familiar with Anne as she played her on set for over two months. She also noted that she almost doesn't think of the person she sees on screen as herself.
"Michael said to me, 'Don't be overly sentimental when playing Anne,' and then it really clicked into place for me," she said. "When I watch the film I get the feeling I'm seeing someone else. Obviously it's not a universe steeped in beauty. I raced to the set every morning. I was in a hurry to get back to the set to act."
Added Haneke: "Within a dialog you have to find the right emotions. It's like an opera in that sense."
Read more of Movieline's Cannes 2012 coverage here.