Starmageddon: Clooney's Obama Fundraiser Gets a Name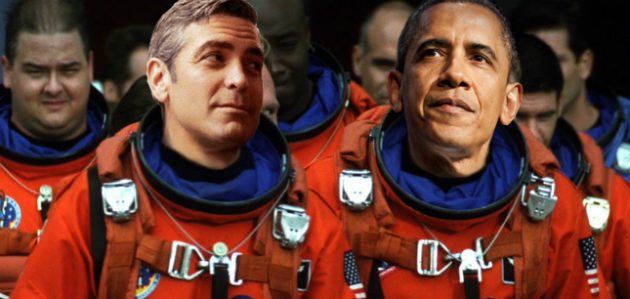 Los Angeles traffic is famous for getting rotten when big happenings hit town, but George Clooney's fundraising bash for President Obama promises to make the Thursday commute even more dreadful. And so, in the grand tradition of traffic-paralyzing presidential visits of the past (or: Obama-jams!) and 2011's infamous "Carmageddon" (remember that?), POTUS's social visit tonight to Clooney's canyon pad -- for a $40,000-a-plate shindig expected to raise $15 million for the Obama re-election campaign -- has a name: Starmageddon.

"Obama at George Clooney's house: Neighbors brace for starmageddon" screamed a headline yesterday in the Los Angeles Daily News/Silicon Valley Mercury News), kicking off a catchword frenzy. The visit to Clooney's Studio City home marks the president's first non-studio trip to the Valley, notes the paper.
As for the traffic madness that may or may not ensue, Los Angelenos with places to be should avoid the following places on Thursday evening: LAX, where Obama lands around 6pm; Studio City/Laurel Canyon north of Ventura Blvd., where Clooney's party will have street closures in effect from 5pm to 8pm; and Beverly Hills later that night, where the President is reportedly staying. And if you're lucky enough to live close to Clooney, be prepared to show I.D. to access your own home from 8pm to 10pm that night.
"Starmageddon" is a fitting name for the star-studded Hollywood-meets-Washington affair -- Clooney and Obama, joining forces for the future of America. If there was an asteroid hurtling toward earth, is there any question that these two could save us all? I mean, obviously.
Then again: I can't be the only one imagining Clooney dancing animal crackers up and down Obama's belly as the plaintive wailing of Steven Tyler fills the air. (Do you think it's possible that anyone else in the world will be doing this very same thing at the very same moment?)