Benedict Cumberbatch, Jonny Lee Miller Frankenstein Play Heading to U.S. Theaters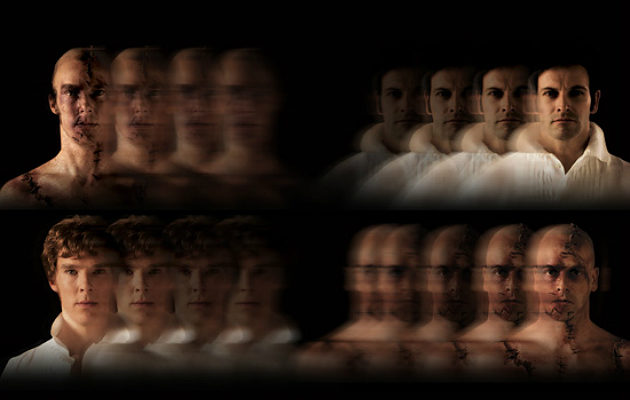 Fans of Benedict Cumberbatch, Jonny Lee Miller and director Danny Boyle who weren't lucky enough to cross the pond to catch the trio's intriguing Royal National Theatre production of Frankenstein, you're in luck! A filmed recording of the play, in which Cumberbatch and Miller took turns playing the dual roles of Frankenstein and his monster (a tag-team performance that won them the 2012 UK Olivier Award for Best Actor) is heading to theaters stateside this June. Details after the jump!

Fathom Events will screen the recording of the Boyle-directed Frankenstein in select theaters this June 6 and 7 (get the full list of participating theaters here). Miller, meanwhile, can also be seen in this week's Dark Shadows; Cumberbatch will next appear in 2013 blockbusters The Hobbit and Star Trek 2.
More on Frankenstein:
Childlike in his innocence but grotesque in form, Frankenstein's bewildered creature is cast out into a hostile universe by his horror-struck maker. Meeting with cruelty wherever he goes, the friendless Creature, increasingly desperate and vengeful, determines to track down his creator and strike a terrifying deal. Urgent concerns of scientific responsibility, parental neglect, cognitive development and the nature of good and evil are embedded within this thrilling and disturbing classic gothic tale.

This visionary production, directed by Oscar-winner Danny Boyle, will shock audiences into the mysterious world of Frankenstein. Do not miss the thrilling twist of a classic tale as Benedict Cumberbatch and Jonny Lee Miller (who share the 2012 UK Olivier Award for Best Actor) reverse roles each night from the creator to the created.

Suitable for audiences 15 years old and up.
[THR]