The Dark Knight Rises Final Trailer: What Have We Learned?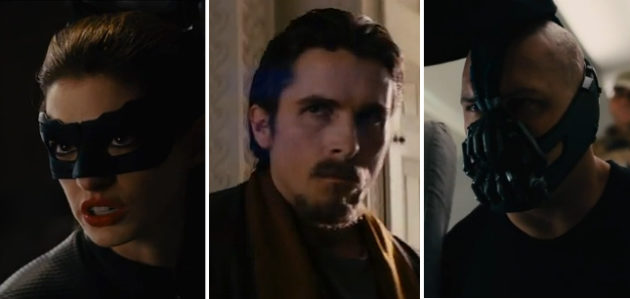 The final trailer for Christopher Nolan's July Bat-sequel The Dark Knight Rises is now available for your viewing pleasure (see it in theaters attached to The Avengers this Friday), and something rose, all right: My nerd boner. Yours will too when you watch Christian Bale, Tom Hardy, Anne Hathaway & Co. in the eerily somber third trailer, then join me in running down all the juicy sights and not-so-muffled sounds and breathtaking moments glimpsed within.

First, WATCH:
Now, WATCH AGAIN!
You know you want to. (Warning: Spoiler territory follows.)
Kudos to Warner Bros. and Nolan because, relatively speaking, this trailer feels fairly light on spoilers. We get peeks at some seemingly crucial scenes -- um, that well, for starters. And the gorgeous, strangely poetic shot of the two bridges exploding in tandem, likely part of the assault on Gotham City as hinted at in TDKR's earlier wave of Bane-themed viral marketing.
And while it gives little away in terms of plot and just how some of the new characters fit into the mix, we get enticing looks at newcomers like Joseph Gordon-Levitt, whose Gotham cop character has yet to be officially detailed. Here he and Hathaway seem like equals flitting around in Bruce Wayne's secret circle of friends and frenemies, even if we don't know exactly how they know each other or the nature of their respective relationships to the Bat.
Then there's Hardy's Bane. Folks say his Bane growl sounds more pronounced, but I had to replay the trailer twice to get his "Gotham's reckoning" line straight. Still: How absolutely hulking and terrifying he is! Who could ever forget that's Hardy hidden underneath that mask and weird strappy leathers and bald head?
So, what have we learned? Add your insights below.
- Bruce Wayne has a (Recovery? Exhaustion? Hipster farmer?) beard.
- Selina Kyle has seen Terminator.
- Those wide-brimmed lady hats are about to be in vogue come July.
- Bane's Con Air mid-flight jailbreak looks pretty cool.
- Bane self-identifies as Gotham's reckoning. I hear he has daddy issues.
- Joseph Gordon-Levitt gives fantastic face in close-up.
- Between the blown-up bridges and the innocent children watching and the dirty prisoner feet and the searing pain that goes through my head at the mere suggestion of someone breaking their back, this is going to hurt.
- Selina Kyle and JGL's cop seem to know each other, and she seems to care what befalls Batman.
- Bane's accent is... Count Chocula by way of England? Help me out here.
- Bat-chalk graffiti is all the rage on Gotham City's playgrounds.
- The Tumbler comes in camo, apparently.
- Catwoman is afraid of Bane.
- I still love Michael Caine, in a sweater.
- I still love Gary Oldman, looking overwhelmed.
- Catwoman advises Batman not to keep sacrificing so much for the people of Gotham.
- Hey! Morgan Freeman.
- Even with the rest of his face obscured by the Batman cowl, that is unmistakably Christian Bale's mouth.
- Prison cartwheels!
- Somewhere and for some reason, Marion Cotillard will kiss Bruce Wayne. Maybe she's Wayne's love interest, and Catwoman is Batman's?
- The Tumbler flies!
- Catwoman and Batman banter in the Batmobile. I hope Prince scores their joyride.
Read more on The Dark Knight Rises, in theaters July 20.