Great Moments in Baseball: The Ring's Sadako Throws First Pitch at Japanese Game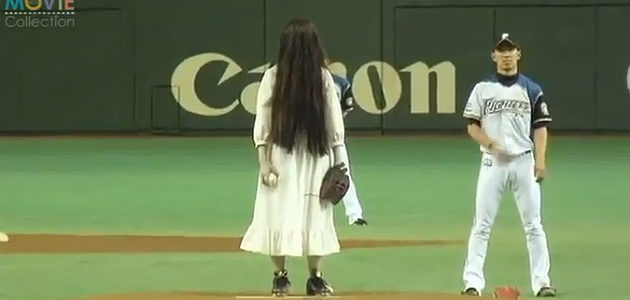 This is officially the most brilliant ceremonial first pitch gimmick ever staged, just narrowly beating out that time Bill Murray ran the bases and slid into home at Wrigley Field: Yesterday at Japan's Tokyo Dome, Ringu/The Ring villainess Sadako (who's coming back for more in Sadako 3D, in Japanese cinemas this May) trudged to the mound to throw the first pitch before the Hokkaido Nippon-Ham Fighters battled the Chiba Lotte Marines. Somehow she managed to see through her signature wall of scary horror hair to toss a decent looper before the ghostly spirit took over and...well, just watch for yourself.

Yep. Just about the best thing ever. (Sadako entrance at 1:30.) But wait -- does this mean everyone who throws the first pitch after her is cursed?
[Movie Collection via TwitchFilm]