Full Circle: Robert Redford Throws First Pitch At Cubs' Home Opener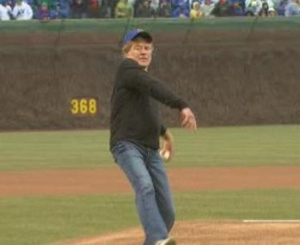 Over 25 years after getting a tryout with the Chicago Cubs as a pitcher in The Natural, Robert Redford visited Wrigley Field on Friday to throw the first pitch at the team's home opener. (Sure, he was in town to promote The Conspirator, but still, it was special.) See how the left-handed legend fared in video ahead.
After faking out pitcher Kerry Wood by switching to his right arm, Redford "made a high toss to home plate and Wood reached up to make a standing catch."
Beforehand, Redford told reporters, "If I throw a smoker, my arm's gonna go with it. I just try to get it to the plate."
Sadly, the Cubs lost to the visiting Pittsburgh Pirates, 6-3.
· Redford Throws First Pitch For Cubs' Home Opener [CBS Chicago]